Lewis Brisbois Promotes 35 to Partnership
Los Angeles, Calif. (February 9, 2021) - Lewis Brisbois is proud to announce the promotion of 35 of its associates to partner. With these promotions, Lewis Brisbois' total partnership comes to 933 across its 53 offices. The diverse class of newly promoted attorneys includes 15 women, which brings the total percentage of female partners at Lewis Brisbois to 33%.
Los Angeles Managing Partner Jana I. Lubert expressed her excitement about the recent promotions, stating, "On behalf of the Management Committee, I congratulate these outstanding attorneys on their achievement. They have demonstrated an exceptional level of dedication to Lewis Brisbois and to our clients, especially during this difficult past year. I am particularly proud of the diversity that exists across this group."
Similarly, San Bernardino and Chief Diversity Partner Rima M. Badawiya shared her enthusiasm over the diversity of the new partners, explaining, "This group of exceptional attorneys, who have been promoted based upon their extraordinary performance, represents the diversity that exists throughout Lewis Brisbois and our commitment to advancing those who achieve at the highest level."
The new partners represent 18 different offices across 14 states and nine practice areas, demonstrating Lewis Brisbois' national presence and breadth of practice. Located on both coasts, including in California and New York, and throughout the rest of the country, including in Minneapolis, Phoenix, Cleveland, and Denver, these newly promoted partners practice in areas including Healthcare, Products Liability, Life Sciences, and General Liability.
For more information on individual attorneys, go to www.lewisbrisbois.com/attorneys.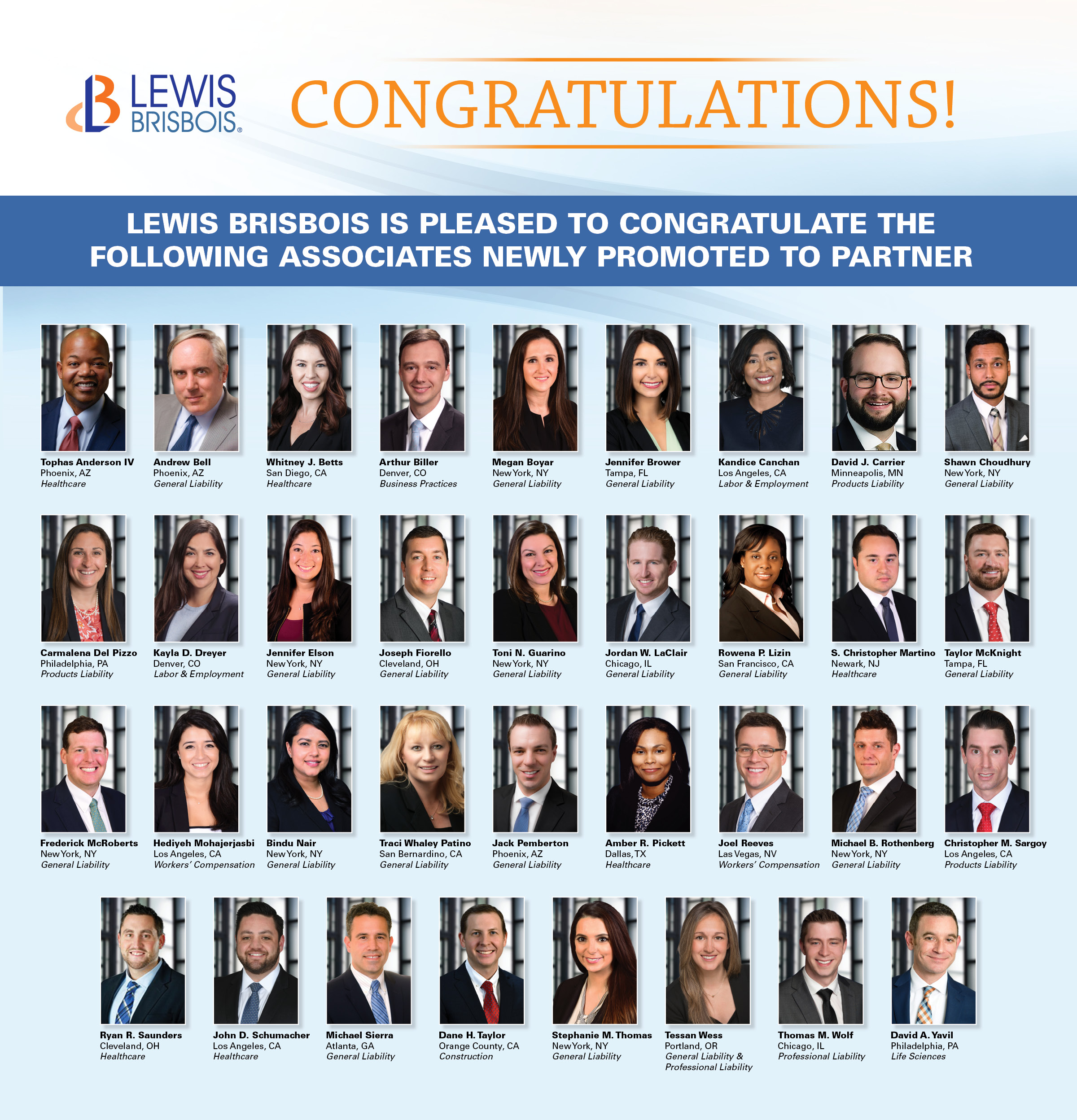 Related Attorneys
Partners

Rima Badawiya

Partner

San Bernardino, CA

909.386.3041

Rima.Badawiya@lewisbrisbois.com

Attorney Bio

Tophas Anderson IV

Partner

Phoenix, AZ

602.792.1498

Tophas.AndersonIV@lewisbrisbois.com

Attorney Bio

Andrew Bell

Partner

Phoenix, AZ

602.385.7876

Andrew.Bell@lewisbrisbois.com

Attorney Bio

Whitney Betts

Partner

San Diego, CA

619.699.4960

Whitney.Betts@lewisbrisbois.com

Attorney Bio

Arthur Biller

Partner

Denver, CO

720.292.2038

Arthur.Biller@lewisbrisbois.com

Attorney Bio

Megan Boyar

Partner

New York, NY

646.783.1727

Megan.Boyar@lewisbrisbois.com

Attorney Bio

Jennifer Brower

Partner

Tampa, FL

813.739.1973

Jennifer.Brower@lewisbrisbois.com

Attorney Bio

Kandice Canchan

Partner

Los Angeles, CA

213.281.5295

Kandice.Canchan@lewisbrisbois.com

Attorney Bio

David Carrier

Partner

Minneapolis, MN

612.428.5007

David.Carrier@lewisbrisbois.com

Attorney Bio

Shawn Choudhury

Partner

New York, NY

646.783.0922

Shawn.Choudhury@lewisbrisbois.com

Attorney Bio

Carmalena Del Pizzo

Partner

Philadelphia, PA

215.977.4076

Carmalena.DelPizzo@lewisbrisbois.com

Attorney Bio

Kayla Dreyer

Partner

Denver, CO

720.292.2025

Kayla.Dreyer@lewisbrisbois.com

Attorney Bio

Joseph Fiorello

Partner

Cleveland, OH

216.298.1266

Joseph.Fiorello@lewisbrisbois.com

Attorney Bio

Toni Guarino

Partner

New York, NY

212.232.1400

Toni.Guarino@lewisbrisbois.com

Attorney Bio

Jordan LaClair

Partner

Chicago, IL

312.463.3323

Jordan.LaClair@lewisbrisbois.com

Attorney Bio

Rowena Lizin

Partner

San Francisco, CA

415.438.6617

Rowena.Lizin@lewisbrisbois.com

Attorney Bio

S. Christopher Martino

Partner

Newark, NJ

973.856.8009

Christopher.Martino@lewisbrisbois.com

Attorney Bio

Taylor McKnight

Partner

Tampa, FL

813.739.1974

Taylor.McKnight@lewisbrisbois.com

Attorney Bio

Frederick McRoberts

Partner

New York, NY

212.232.1724

Frederick.McRoberts@lewisbrisbois.com

Attorney Bio

Hediyeh Mohajerjasbi

Partner

Los Angeles, CA

213.680.5102

Hediyeh.Mohajerjasbi@lewisbrisbois.com

Attorney Bio

Bindu Nair

Partner

New York, NY

212.232.1337

Bindu.Nair@lewisbrisbois.com

Attorney Bio

Traci Whaley Patino

Partner

San Bernardino, CA

909.381.7159

Traci.Patino@lewisbrisbois.com

Attorney Bio

Jack Pemberton

Partner

Phoenix, AZ

602.385.7842

Jack.Pemberton@lewisbrisbois.com

Attorney Bio

Amber Pickett

Partner

Dallas, TX

214.722.7106

Amber.Pickett@lewisbrisbois.com

Attorney Bio

Joel Reeves

Partner

Las Vegas, NV

702.583.6006

Joel.Reeves@lewisbrisbois.com

Attorney Bio

Michael Rothenberg

Partner

New York, NY

212.232.1343

Michael.Rothenberg@lewisbrisbois.com

Attorney Bio

Christopher Sargoy

Partner

Los Angeles, CA

213.358.6172

Christopher.Sargoy@lewisbrisbois.com

Attorney Bio

Ryan Saunders

Partner

Cleveland, OH

216.586.8845

Ryan.Saunders@lewisbrisbois.com

Attorney Bio

John Schumacher

Partner

Los Angeles, CA

213.599.7730

John.Schumacher@lewisbrisbois.com

Attorney Bio

Michael Sierra

Partner

Atlanta, GA

404.476.2001

Mike.Sierra@lewisbrisbois.com

Attorney Bio

Dane Taylor

Partner

Orange County, CA

714.966.3142

Dane.Taylor@lewisbrisbois.com

Attorney Bio

Tessan Wess

Partner

Portland, OR

971.334.7005

Tessan.Wess@lewisbrisbois.com

Attorney Bio

Thomas Wolf

Partner

Chicago, IL

312.463.3465

Thomas.Wolf@lewisbrisbois.com

Attorney Bio

David Yavil

Partner

Philadelphia, PA

215.977.4069

David.Yavil@lewisbrisbois.com

Attorney Bio