Phone: 312.463.3465
Fax: 312.345.1778
Primary Areas of Practice
Thomas Wolf is a partner in the Chicago office of Lewis Brisbois Bisgaard & Smith LLP and a member of the Professional Liability and Biometric Information Privacy Act (BIPA) practice groups. He represents clients, including individuals and public, private and non-profit entities, in many high profile general liability, transportation and insurance coverage disputes as well. Mr. Wolf also defends class action litigations, including Illinois-based companies under BIPA. Through successful litigation and motion practice, Mr. Wolf has obtained numerous dismissals and positive results for his clients in state and federal courts.
Mr. Wolf was named to the Super Lawyers Rising Star list from 2019-2022. Such a distinction is awarded to the top 2.5% of all attorneys in Illinois as recognized by their peers.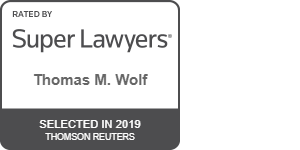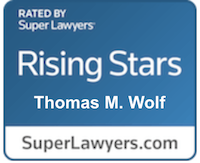 Publications
My Criminal Record and Immigration Status, Illinois Legal Aid Online
Government Benefits for Immigrants, Illinois Legal Aid Online
Paying Income Taxes as an Undocumented Immigrant, Illinois Legal Aid Online
Someone I Know is in Immigration Custody, Illinois Legal Aid Online
Representative Cases
Convinced a judge in one of the most plaintiff-friendly venues in America to throw out negligence and breach of fiduciary duty counts against an accounting firm caught up in a bitter dispute between divorcing spouses. The suit, which involves tens of millions of dollars and one of the region's top divorce attorneys, alleged that the accountant engaged in a conspiracy with other professionals, trustees, and his wife when the firm set up estate planning devices prior to the divorce proceedings. The firm did not advise the parties to secure separate representation even though they had performed work for the wife for years, nor did they have the parties sign an engagement letter. The devices had the effect of substantially reducing the plaintiff's share of the marital estate assets following the divorce. Mr. Wolf argued that the statute of limitations barred the malpractice claims based on documents uncovered in the separate divorce proceedings, of which he convinced the court to take judicial notice. This development came after he successfully persuaded the judge not to consolidate the professional liability lawsuit with the divorce case. Following extensive briefing and oral argument, the court ruled that, despite the plaintiff husband not knowing the full extent of his damages or the number of parties involved in the alleged scheme, his knowledge that one device existed prior to the filing of the divorce case put him on inquiry notice to discover any and all malpractice based potential causes of actions and file his complaint within two years, which he did not do. The court dismissed the negligence and breach of fiduciary duty counts with prejudice, an uncommon result in this venue, and the conspiracy count without prejudice.
Obtained a dismissal of all seven counts against his insurance agent client, including six counts that carried penalties of reimbursement of a plaintiffs' attorney's fees and punitive damages. The plaintiffs filed suit after numerous alleged misrepresentations were made to them while procuring a life insurance policy, including threats to report the plaintiffs to immigration officials if they challenged the validity of the policy. The plaintiffs sought several million dollars if the case went to trial. Following extensive briefing and an hour-long argument in which the plaintiffs were represented by three lawyers from three different law firms, the judge agreed with Mr. Wolf's client's position that: (1) Plaintiffs suffered no actual damages to sustain a cause of action for consumer fraud, breach of contract and misrepresentation; (2) Plaintiffs' bad faith claim could only be brought against an insurance company, not an individual insurance agent; (3) the breach of fiduciary claim was foreclosed by Illinois statutory law; and (4) Plaintiffs did not satisfy the heightened requirements to plead a claim for intentional infliction of emotional distress. As a result, six of the plaintiffs' seven counts were dismissed with prejudice and the case later settled for a nominal sum.
Won a motion for summary judgment in the United States District Court for the Northern District of Illinois for his insurance agents clients after a tireless effort and a two year investigation. The case revolved around the collapse of a roof for a building owned by the Plaintiff, which he alleged occurred on October 19, 2011, just 9 days after property coverage was procured by the agents. The agents admitted to not visiting the building before binding coverage and submitting an erroneous application which listed the building as vacant. Plaintiff's claim for coverage was denied by his insurer because it denied the agents had binding authority and it would not insure a vacant building. Plaintiff sought damages near $1,000,000. Through his investigation, Mr. Wolf uncovered numerous documents disproving the date of loss alleged by the Plaintiff and found a critical eye witness who testified that the roof in fact collapsed on October 2, 2011, prior to the agents being set in motion to procure the coverage. He successfully argued that the eye witness' testimony established the date of loss occurring before coverage was in place and before coverage was requested, thus Plaintiff would not have had coverage regardless of the agents' errors in procuring coverage and the numerous underwriting issues. Further, he successfully argued that the Plaintiff's claim the agents failed to procure coverage quickly enough when allegedly requested in mid-September 2011, was erroneous as no documents were produced in support of such allegations, and as such, they could not meet their burden of persuasion to defeat the motion for summary judgment.
Obtained summary judgment and recovered nearly $1,000,000 in a settlement for an insurance company after their client defaulted on various surety bonds issued for construction contracts.
Admissions
State Bar Admissions
United States District Courts

United States District Court for the Central District of Illinois
United States District Court for the Northern District of Illinois
Admissions
Illinois
Northern District of Illinois
Associations
Chicago Bar Association
American Bar Association
Illinois State Bar Association
Education
The John Marshall Law School
Juris Doctor, 2013
Purdue University
Bachelor of Arts in History and English, 2010

Back to Attorneys