Professional Liability
More than ever, our professional clients need representation they can count on. Changing economic times have resulted in litigation strategies targeting nearly every type of professional. Our professional clients often find that today's business partners become tomorrow's adversaries. When a lawsuit results, our Professional Liability team of attorneys responds quickly and with precision. Our relationships with our professional clients and insurance companies are based on communication, trust, and results. Whether through motion practice, jury trial or, when appropriate, early settlement, we work together with our clients toward efficient case resolution.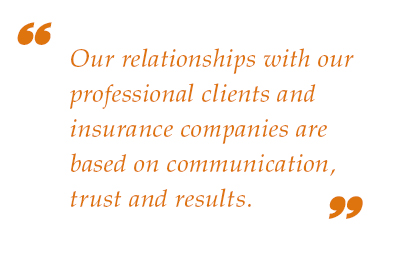 Lewis Brisbois' Professional Liability Practice is comprised of attorneys located throughout all of our offices nationwide. Either by way of direct engagement or retention through the professional's insurance carrier, we represent, among others: accountants, architects & engineers, attorneys, bankers, computer and media professionals, (cyber law), financial planners, healthcare providers, insurance brokers and agents, school districts and municipalities, property appraisers and inspectors, real estate appraisers, brokers and agents, and securities brokers (FINRA).
Members of our Professional Liability Department are experienced in handling litigation in both state and federal courts through trial and on appeal. Our attorneys are licensed to practice in most states and represent professionals in administrative proceedings.
Lewis Brisbois is engaged in representing clients across multiple practice areas. Where appropriate, members of our Professional Liability Practice work with attorneys from other practice areas within the firm to provide legal representation of the highest quality to a broad range of professionals. Since our firm's inception, no other law firm in the United States has successfully defended members of such a wide array of professional occupations.
Related Attorneys
Partners

Partner

Newark, NJ

973.494.5307 | NY: 646.450.7896

Sarah.Adam@lewisbrisbois.com

Attorney Bio

Partner

Los Angeles, CA

213.580.3944

Pamela.Albanese@lewisbrisbois.com

Attorney Bio

Partner

Philadelphia, PA

215.977.4058

Andrew.Albero@lewisbrisbois.com

Attorney Bio

Managing Partner

Miami, FL

786.353.0241

Seth.Alhadeff@lewisbrisbois.com

Attorney Bio

Partner

San Diego, CA

619.699.4913

Zahed.Amin@lewisbrisbois.com

Attorney Bio

Partner

Northwest Indiana

219.440.0609

Ami.Anderson@lewisbrisbois.com

Attorney Bio

Partner

New York, NY

212.232.1411

Mark.Anesh@lewisbrisbois.com

Attorney Bio

Partner

New York, NY

212.232.1398

Bradley.Bartolomeo@lewisbrisbois.com

Attorney Bio

Managing Partner

Madison County, IL

618.307.7279

Jeff.Bash@lewisbrisbois.com

Attorney Bio

Partner

Los Angeles, CA

213.680.5176

Daniel.Bath@lewisbrisbois.com

Attorney Bio

Partner

Los Angeles, CA

213.680.5091

Bart.Becker@lewisbrisbois.com

Attorney Bio

Partner

Houston, TX

832.742.6724

Matthew.Begley@lewisbrisbois.com

Attorney Bio

Partner

Portland, OR

971.712.2810

Michael.Belisle@lewisbrisbois.com

Attorney Bio

Partner

Chicago, IL

312.463.3341

Scott.Bentivenga@lewisbrisbois.com

Attorney Bio

Partner

San Diego, CA

619.699.4905

Corinne.Bertsche@lewisbrisbois.com

Attorney Bio

Partner

Baltimore, MD

410.525.6409

Kathryn.Bonorchis@lewisbrisbois.com

Attorney Bio

Partner

Reno, NV

775.399.6393

John.Boyden@lewisbrisbois.com

Attorney Bio

Partner

New York, NY

212.232.1356

Laura.Brecher@lewisbrisbois.com

Attorney Bio

Partner

Dallas, TX

214.722.7123

Susan.Briones@lewisbrisbois.com

Attorney Bio

Managing Partner

Dallas, TX

214.722.7105

Nichol.Bunn@lewisbrisbois.com

Attorney Bio

Partner

Baltimore, MD

410.319.2678

Christopher.Burgoyne@lewisbrisbois.com

Attorney Bio

Partner

San Francisco, CA

213.680.5141

Gordon.Calhoun@lewisbrisbois.com

Attorney Bio

Partner

New York, NY

212.232.1391

Karen.Campbell@lewisbrisbois.com

Attorney Bio

Partner

Los Angeles, CA

213.680.5072

Joe.Campo@lewisbrisbois.com

Attorney Bio

Partner

New York, NY

212.232.1374

James.Cardenas@lewisbrisbois.com

Attorney Bio

Partner

Chicago, IL

312.463.3336

Michael.Carter@lewisbrisbois.com

Attorney Bio

Partner

Philadelphia, PA

215.687.4233

Gary.Chiumento@lewisbrisbois.com

Attorney Bio

Partner

Northwest Indiana

219.440.0602

Scott.Cockrum@lewisbrisbois.com

Attorney Bio

Partner

Providence, RI

401.406.3318

Michael.Coghlan@lewisbrisbois.com

Attorney Bio

Partner

Boston, MA

857.313.3953

Marc.Cohen@lewisbrisbois.com

Attorney Bio

Partner

Chicago, IL

312.463.3444

Charles.Cole@lewisbrisbois.com

Attorney Bio

Partner

Sacramento, CA

916.646.8222

Charles.Coleman@lewisbrisbois.com

Attorney Bio

Partner

Dallas, TX

214.722.7142

Clint.Corrie@lewisbrisbois.com

Attorney Bio

Partner

New Orleans, LA

504.272.2789

Tom.Cortazzo@lewisbrisbois.com

Attorney Bio

Managing Partner

St. Louis, MO

314.685.8350

Tracy.Cowan@lewisbrisbois.com

Attorney Bio

Partner

Las Vegas, NV

702.693.4374

Marc.Cwik@lewisbrisbois.com

Attorney Bio

Partner

San Diego, CA

619.699.4961

Julie.Dann@lewisbrisbois.com

Attorney Bio

Partner

Newark, NJ

973.792.8726

Brian.Deeney@lewisbrisbois.com

Attorney Bio

Partner

Philadelphia, PA

215.977.4076

Carmalena.DelPizzo@lewisbrisbois.com

Attorney Bio

Managing Partner

Raleigh, NC

919.459.6186

Christopher.Derrenbacher@lewisbrisbois.com

Attorney Bio

Partner

San Francisco, CA

415.262.8563

Michael.Descalso@lewisbrisbois.com

Attorney Bio

Partner

Chicago, IL

312.463.3436

Anthony.Devito@lewisbrisbois.com

Attorney Bio

Partner

New Orleans, LA

504.272.2784

Karen.Dicke@lewisbrisbois.com

Attorney Bio

Partner

Atlanta, GA

404.991.2170

Michael.DiOrio@lewisbrisbois.com

Attorney Bio

Partner

Atlanta, GA

404.348.8571

James.Doyle@lewisbrisbois.com

Attorney Bio

Partner

San Francisco, CA

415.438.5923

Stephanie.Drenski@lewisbrisbois.com

Attorney Bio

Partner

Lafayette, LA

337.205.4740

Tabitha.Durbin@lewisbrisbois.com

Attorney Bio

Partner

Atlanta, GA

404.991.2153

Andy.Eaton@lewisbrisbois.com

Attorney Bio

Partner

Cleveland, OH

216.586.8812

Tera.Edwards@lewisbrisbois.com

Attorney Bio

Partner

Chicago, IL

312.463.3425

Charles.Egner@lewisbrisbois.com

Attorney Bio

Managing Partner

Miami, FL

786.353.0223

Todd.Ehrenreich@lewisbrisbois.com

Attorney Bio

Partner

Dallas, TX

972.638.8672

Chris.Espinosa@lewisbrisbois.com

Attorney Bio

Partner

Los Angeles, CA

213.680.5171

Ken.Feldman@lewisbrisbois.com

Attorney Bio

Partner

Los Angeles, CA

213.599.7793

Connie.Fickel@lewisbrisbois.com

Attorney Bio

Partner

Fort Lauderdale, FL

954.495.2221

Bradley.Fischer@lewisbrisbois.com

Attorney Bio

Partner

Chicago, IL

312.463.3454

Margaret.Fitzsimmons@lewisbrisbois.com

Attorney Bio

Partner

Houston, TX

346.241.4967

Rachael.Fountain@lewisbrisbois.com

Attorney Bio

Partner

New York, NY

212.845.9001

Daniel.Fox@lewisbrisbois.com

Attorney Bio

Partner

San Diego, CA

619.699.4930

Amy.Frerich@lewisbrisbois.com

Attorney Bio

Managing Partner

Jackson, MS

601.499.8122

Cable.Frost@lewisbrisbois.com

Attorney Bio

Partner

Fort Lauderdale, FL

213.599.7869

Christopher.Gabbard@lewisbrisbois.com

Attorney Bio

Partner

San Francisco, CA

415.438.6621

Rene.Gamboa@lewisbrisbois.com

Attorney Bio

Partner

Fort Lauderdale, FL

954.903.0013

Paul.Gamm@lewisbrisbois.com

Attorney Bio

Partner

San Diego, CA

619.699.4907

Peter.Garchie@lewisbrisbois.com

Attorney Bio

Partner

Orange County, CA

714.668.5591

Alyssa.Garchie@lewisbrisbois.com

Attorney Bio

Partner

New York, NY

212.232.1302

Jeffrey.Gaylord@lewisbrisbois.com

Attorney Bio

Partner

Baltimore, MD

410.525.6414

Andrew.Gendron@lewisbrisbois.com

Attorney Bio

Partner

Houston, TX

832.460.4637

Norman.Giles@lewisbrisbois.com

Attorney Bio

Managing Partner

Salt Lake City, UT

801.251.7337

Richard.Glauser@lewisbrisbois.com

Attorney Bio

Partner

Hartford, CT

860.566.8049

Timothy.Gondek@lewisbrisbois.com

Attorney Bio

Managing Partner

Weirton, WV

304.224.2526

Michelle.Gorman@lewisbrisbois.com

Attorney Bio

Partner

San Francisco, CA

415.438.6692

Alex.Graft@lewisbrisbois.com

Attorney Bio

Partner

New Orleans, LA

504.272.2779

James.Hailey@lewisbrisbois.com

Attorney Bio

Managing Partner

Tampa, FL

813.739.1972

Jason.Hall@lewisbrisbois.com

Attorney Bio

Partner

Los Angeles, CA

213.580.7949

Wayne.Hammack@lewisbrisbois.com

Attorney Bio

Managing Partner

Orange County, CA

714.668.5501

Charles.Harris@lewisbrisbois.com

Attorney Bio

Partner

Los Angeles, CA

213.580.3988

Barry.Hassenberg@lewisbrisbois.com

Attorney Bio

Co-Managing Partner

Phoenix, AZ

602.385.1032

Sean.Healy@lewisbrisbois.com

Attorney Bio

Partner

Houston, TX

832.460.4614

Bill.Helfand@lewisbrisbois.com

Attorney Bio

Partner

Miami, FL

786.725.3234

Bryan.Hill@lewisbrisbois.com

Attorney Bio

Partner

Albuquerque, NM

505.545.8305

Stephen.Hoffman@lewisbrisbois.com

Attorney Bio

Partner

New York, NY

646.783.1737

Adam.Hoffman@lewisbrisbois.com

Attorney Bio

Partner

Orange County, CA

714.668.5510

Esther.Holm@lewisbrisbois.com

Attorney Bio

Partner

Phoenix, AZ

602.385.7864

Kathryn.Honecker@lewisbrisbois.com

Attorney Bio

Partner

New York, NY

646.666.7692

Nicholas.Hurzeler@lewisbrisbois.com

Attorney Bio

Partner

San Diego, CA

619.699.4944

Heidi.Inman@lewisbrisbois.com

Attorney Bio

Managing Partner

Hartford, CT

860.566.8046

Angeline.Ioannou@lewisbrisbois.com

Attorney Bio

Partner

Los Angeles, CA

213.680.5140

Doug.Irvine@lewisbrisbois.com

Attorney Bio

Partner

Hartford, CT

860.566.8045

Christy.Jachimowski@lewisbrisbois.com

Attorney Bio

Partner

Philadelphia, PA

215.977.4063

Larry.Jackson@lewisbrisbois.com

Attorney Bio

Partner

Walnut Creek, CA

415.438.6612

Reuben.Jacobson@lewisbrisbois.com

Attorney Bio

Partner

Philadelphia, PA

215.977.4075

Lee.Janiczek@lewisbrisbois.com

Attorney Bio

Partner

New York, NY

646.783.0954

Joshua.Jemal@lewisbrisbois.com

Attorney Bio

Partner

Houston, TX

713.324.0082

Kimberly.Jessett@lewisbrisbois.com

Attorney Bio

Partner

Chicago, IL

312.463.3451

Jason.Jochum@lewisbrisbois.com

Attorney Bio

Partner

Los Angeles, CA

213.680.5053

Barry.Kaiman@lewisbrisbois.com

Attorney Bio

Partner

Los Angeles, CA

213.580.3929

Victoria.Kajo@lewisbrisbois.com

Attorney Bio

Partner

Chicago, IL

312.463.3445

Josh.Kantrow@lewisbrisbois.com

Attorney Bio

National Managing Partner

New York, NY

212.232.1378

Greg.Katz@lewisbrisbois.com

Attorney Bio

Partner

Lexington, KY

513.808.9914

Kate.Kennedy@lewisbrisbois.com

Attorney Bio

Partner

Chicago, IL

312.463.3482

Charlotte.Kormendy@lewisbrisbois.com

Attorney Bio

Partner

New Orleans, LA

504.302.0484

Rachal.Kramar@lewisbrisbois.com

Attorney Bio

Managing Partner

Baltimore, MD

410.525.6397

Scott.Krause@lewisbrisbois.com

Attorney Bio

Partner

Roanoke, VA

540.283.0130

Paul.Kuhnel@lewisbrisbois.com

Attorney Bio

Partner

Newark, NJ

973.792.8741

Petar.Kuridza@lewisbrisbois.com

Attorney Bio

Partner

Los Angeles, CA

213.580.3980

Jay.Lake@lewisbrisbois.com

Attorney Bio

Partner

Newark, NJ

973.792.8740

Jeffrey.Leonard@lewisbrisbois.com

Attorney Bio

Managing Partner

San Diego, CA

619.699.4920

Doug.Lewis@lewisbrisbois.com

Attorney Bio

Partner

Los Angeles, CA

213.680.5100 | 602.385.1035

Jessica.Lienau@lewisbrisbois.com

Attorney Bio

Partner

Boston, MA

857.313.3933

Courtney.Longo@lewisbrisbois.com

Attorney Bio

Managing Partner

San Bernardino, CA

909.381.7168

John.Lowenthal@lewisbrisbois.com

Attorney Bio

Partner

Seattle, WA

206.455.7407

Sarah.Macklin@lewisbrisbois.com

Attorney Bio

Partner

Los Angeles, CA

213.680.5029

Michael.Magloff@lewisbrisbois.com

Attorney Bio

Partner

Northwest Indiana

219.440.0616

Anna.Mandula@lewisbrisbois.com

Attorney Bio

Partner

Chicago, IL

312.463.3345

George.Manos@lewisbrisbois.com

Attorney Bio

Partner

Providence, RI

401.406.3317

Michael.Marcello@lewisbrisbois.com

Attorney Bio

Partner

Los Angeles, CA

213.680.5049

Raul.Martinez@lewisbrisbois.com

Attorney Bio

Partner

Newark, NJ

973.856.8009

Christopher.Martino@lewisbrisbois.com

Attorney Bio

Managing Partner

Atlanta, GA

404.348.8570

Scott.Masterson@lewisbrisbois.com

Attorney Bio

Partner

Boston, MA

857.313.3941

Amanda.Mathieu@lewisbrisbois.com

Attorney Bio

Partner

New York, NY

646.783.0933

Eldar.Mayouhas@lewisbrisbois.com

Attorney Bio

Partner

Salt Lake City, UT

801.251.7372

Ted.McBride@lewisbrisbois.com

Attorney Bio

Partner

Chicago, IL

312.463.3360

Ruth.McCoy@lewisbrisbois.com

Attorney Bio

Partner

Los Angeles, CA

213.680.5009

Michael.McLain@lewisbrisbois.com

Attorney Bio

Managing Partner

Lafayette, LA

337.205.4739

Jenny.Michel@lewisbrisbois.com

Attorney Bio

Partner

Walnut Creek, CA

925.357.3441

Liza.Milanes@lewisbrisbois.com

Attorney Bio

Partner

Baltimore, MD

410.319.2675

Jonathan.Minkove@lewisbrisbois.com

Attorney Bio

Partner

Seattle, WA

206.508.1940

Jonathan.Missen@lewisbrisbois.com

Attorney Bio

Partner

New York, NY

212.232.1396

Steven.Montgomery@lewisbrisbois.com

Attorney Bio

Partner

Northwest Indiana

219.440.0618

Jessica.Mullen@lewisbrisbois.com

Attorney Bio

Partner

Boston, MA

857.313.3928

Paul.Muniz@lewisbrisbois.com

Attorney Bio

Partner

San Francisco, CA

415.438.6606

Duane.Musfelt@lewisbrisbois.com

Attorney Bio

Partner

Los Angeles, CA

213.580.7933

Larissa.Nefulda@lewisbrisbois.com

Attorney Bio

Partner

Phoenix, AZ

602.385.7861

Kristian.Nelson@lewisbrisbois.com

Attorney Bio

Partner

Seattle, WA

206.876.2965

Kathleen.Nelson@lewisbrisbois.com

Attorney Bio

Partner

Providence, RI

401.406.3311

Monica.Nelson@lewisbrisbois.com

Attorney Bio

Partner

Houston, TX

832.742.6712

Joelle.Nelson@lewisbrisbois.com

Attorney Bio

Partner

San Francisco, CA

415.262.8519

Christopher.Nevis@lewisbrisbois.com

Attorney Bio

Partner

Providence, RI

401.406.3309

Brian.Newberry@lewisbrisbois.com

Attorney Bio

Partner

Boston, MA

857.313.3940

Matthew.O'Leary@lewisbrisbois.com

Attorney Bio

Partner

New York, NY

212.232.1408

Erin.OLeary@lewisbrisbois.com

Attorney Bio

Partner

Phoenix, AZ

602.385.1068

Michael.Obert@lewisbrisbois.com

Attorney Bio

Partner

Las Vegas, NV

702.693.4319

Jeff.Olster@lewisbrisbois.com

Attorney Bio

Managing Partner

Houston, TX

832.460.4620

David.Oubre@lewisbrisbois.com

Attorney Bio

Partner

Washington, D.C.

202.558.0668

Stefan.Palys@lewisbrisbois.com

Attorney Bio

Partner

Los Angeles, CA

213.599.7776

Sanay.Panchal@lewisbrisbois.com

Attorney Bio

Partner

San Bernardino, CA

909.381.7159

Traci.Patino@lewisbrisbois.com

Attorney Bio

Partner

Sacramento, CA

916.646.8202

Frank.Perrott@lewisbrisbois.com

Attorney Bio

Partner

New York, NY

212.232.1363

Brian.Pete@lewisbrisbois.com

Attorney Bio

Managing Partner

Portland, OR

971.712.2803

George.Pitcher@lewisbrisbois.com

Attorney Bio

Partner

New York, NY

212.232.1419

David.Pollack@lewisbrisbois.com

Attorney Bio

Partner

Phoenix, AZ

602.792.1503

Adam.Polson@lewisbrisbois.com

Attorney Bio

Partner

Philadelphia, PA

215.977.4091

Michael.Pullano@lewisbrisbois.com

Attorney Bio

Partner

Newark, NJ

973.792.8745

Thomas.Rantas@lewisbrisbois.com

Attorney Bio

Partner

San Francisco, CA

415.438.6624

Roger.Raphael@lewisbrisbois.com

Attorney Bio

Partner

Newark, NJ

973.577.6247

James.Rehberger@lewisbrisbois.com

Attorney Bio

Partner

Phoenix, AZ

602.385.7840

Todd.Rigby@lewisbrisbois.com

Attorney Bio

Partner

Lafayette, LA

337.205.4532

Jeff.Riggs@lewisbrisbois.com

Attorney Bio

Partner

Tampa, FL

813.739.1923

John.Rine@lewisbrisbois.com

Attorney Bio

Partner

Pittsburgh, PA

412.752.7254

Ashley.Rodgers@lewisbrisbois.com

Attorney Bio

Managing Partner

Savannah, GA

912.525.4960 | 404.348.8576

Brantley.Rowlen@lewisbrisbois.com

Attorney Bio

Managing Partner

Cleveland, OH

216.344.9464

Ryan.Rubin@lewisbrisbois.com

Attorney Bio

Managing Partner

Kansas City, MO

316.609.7901

Alan.Rupe@lewisbrisbois.com

Attorney Bio

Partner

Denver, CO

720.292.2000

Paul.Rupprecht@lewisbrisbois.com

Attorney Bio

Partner

Los Angeles, CA

213.580.6300

David.Samani@lewisbrisbois.com

Attorney Bio

Partner

Baltimore, MD

410.525.6401

Alyson.Sandul@lewisbrisbois.com

Attorney Bio

Partner

Raleigh, NC

919.459.6127

Eric.Sauls@lewisbrisbois.com

Attorney Bio

Partner

Cleveland, OH

216.586.8845

Ryan.Saunders@lewisbrisbois.com

Attorney Bio

Partner

Los Angeles, CA

213.580.3968

Timothy.Schowe@lewisbrisbois.com

Attorney Bio

Managing Partner

Denver, CO

720.292.2002

Todd.Seelman@lewisbrisbois.com

Attorney Bio

Partner

Los Angeles, CA

213.680.5003

Lance.Selfridge@lewisbrisbois.com

Attorney Bio

Partner

Los Angeles, CA

213.358.6027

Edward.Seo@lewisbrisbois.com

Attorney Bio

Partner

Los Angeles, CA

213.680.5038

David.Shapiro@lewisbrisbois.com

Attorney Bio

Partner

New York, NY

212.232.1322

Peter.Shapiro@lewisbrisbois.com

Attorney Bio

Partner

Atlanta, GA

404.567.6585

Joelle.Sharman@lewisbrisbois.com

Attorney Bio

Partner

Portland, OR

971.712.2784

Lisa.Shevlin@lewisbrisbois.com

Attorney Bio

Partner

Chicago, IL

312.463.3359

James.Shield@lewisbrisbois.com

Attorney Bio

Partner

Los Angeles, CA

213.680.5028

Robert.Slaughter@lewisbrisbois.com

Attorney Bio

Partner

Chicago, IL

312.463.3424

Daniel.Slayden@lewisbrisbois.com

Attorney Bio

Partner

San Diego, CA

619.699.4954

Brian.Slome@lewisbrisbois.com

Attorney Bio

Partner

San Diego, CA

619.699.4909

Ernest.Slome@lewisbrisbois.com

Attorney Bio

Partner

Houston, TX

832.460.4622

Sarah.Smith@lewisbrisbois.com

Attorney Bio

Partner

Lafayette, LA

337.205.4742

Danielle.Smith@lewisbrisbois.com

Attorney Bio

Partner

Jackson, MS

601.499.8123

Brad.Smith@lewisbrisbois.com

Attorney Bio

Partner

New York, NY

212.232.1413

Kevin.Spagnoli@lewisbrisbois.com

Attorney Bio

Co-Managing Partner

New York, NY

646.783.1703

Jeffrey.Spiegel@lewisbrisbois.com

Attorney Bio

Partner

Los Angeles, CA

213.358.6062

Rachel.Sposato@lewisbrisbois.com

Attorney Bio

Partner

Savannah, GA

912.525.4977

Taylor.Stewart@lewisbrisbois.com

Attorney Bio

Partner

Newark, NJ

973.792.8739

Meredith.Stoma@lewisbrisbois.com

Attorney Bio

Partner

Seattle, WA

206.455.7413

Benjamin.Stone@lewisbrisbois.com

Attorney Bio

Partner

Los Angeles, CA

213.580.7908

Mahesh.Subramanian@lewisbrisbois.com

Attorney Bio

Partner

Sacramento, CA

916.646.8216

Richard.Sullivan@lewisbrisbois.com

Attorney Bio

Partner

Los Angeles, CA

213.680.5050

Matt.Taggart@lewisbrisbois.com

Attorney Bio

Partner

Los Angeles, CA

213.680.5054

Karen.Milligan@lewisbrisbois.com

Attorney Bio

Partner

San Bernardino, CA

909.381.7183

Peter.Theophilos@lewisbrisbois.com

Attorney Bio

Partner

Walnut Creek, CA

415.438.6662

Shawn.Toliver@lewisbrisbois.com

Attorney Bio

Partner

Newark, NJ

973.577.6252

Robert.Tosti@lewisbrisbois.com

Attorney Bio

Partner

Los Angeles, CA

213.680.5081

Stephen.Turner@lewisbrisbois.com

Attorney Bio

Partner

Portland, OR

971.334.7031

Ross.VanNess@lewisbrisbois.com

Attorney Bio

Partner

Fort Lauderdale, FL

954.495.2212

Kevin.Vannatta@lewisbrisbois.com

Attorney Bio

Partner

Lafayette, LA

337.443.7484

Dave.Vasser@lewisbrisbois.com

Attorney Bio

Partner

Baltimore, MD

410.525.6396

Ashley.Voli@lewisbrisbois.com

Attorney Bio

Partner

St. Louis, MO

314.685.8352

Karen.Volkman@lewisbrisbois.com

Attorney Bio

Partner

San Francisco, CA

415.262.8530

Michael.Walker@lewisbrisbois.com

Attorney Bio

Partner

Nashville, TN

615.439.2689

Brian.Walthart@lewisbrisbois.com

Attorney Bio

Managing Partner

Boston, MA

857.313.3936

Ken.Walton@lewisbrisbois.com

Attorney Bio

Partner

San Diego, CA

619.699.4952

Garth.Ward@lewisbrisbois.com

Attorney Bio

Partner

Walnut Creek, CA

925.357.3326

Stephen.Welch@lewisbrisbois.com

Attorney Bio

Partner

New York, NY

212.232.1401

Darrell.Whiteley@lewisbrisbois.com

Attorney Bio

Partner

Newark, NJ

973.718.3949

Brian.Whiteman@lewisbrisbois.com

Attorney Bio

Partner

Denver, CO

720.548.3957

Adam.Wiens@lewisbrisbois.com

Attorney Bio

Partner

Atlanta, GA

404.348.8584

Ryan.Wilhelm@lewisbrisbois.com

Attorney Bio

Partner

Los Angeles, CA

213.580.7991

Michael.Wilk@lewisbrisbois.com

Attorney Bio

Partner

Chicago, IL

312.463.3465

Thomas.Wolf@lewisbrisbois.com

Attorney Bio

Partner

Los Angeles, CA

714.966.3132

Dustin.Woods@lewisbrisbois.com

Attorney Bio

Partner

New York, NY

212.232.1346

Jamie.Wozman@lewisbrisbois.com

Attorney Bio

Partner

New York, NY

212.232.1412

Cristina.Yannucci@lewisbrisbois.com

Attorney Bio

Partner

Philadelphia, PA

215.977.4069

David.Yavil@lewisbrisbois.com

Attorney Bio

Partner

Charleston, WV

304.553.0161

Tim.Yianne@lewisbrisbois.com

Attorney Bio

Partner

Chicago, IL

312.463.3330

Tim.Young@lewisbrisbois.com

Attorney Bio

Partner

New York, NY

212.232.1406

Jennifer.Yuen@lewisbrisbois.com

Attorney Bio
Associates

Associate

Los Angeles, CA

213.599.7855

Ibrahim.Adwani@lewisbrisbois.com

Attorney Bio

Associate

Los Angeles, CA

213.250.1800

Erica.Amin@lewisbrisbois.com

Attorney Bio

Associate

Orange County, CA

714.966.3147

Alexandra.Anast@lewisbrisbois.com

Attorney Bio

Associate

Las Vegas, NV

702.693.4396

Jessica.Beeler@lewisbrisbois.com

Attorney Bio

Associate

Orange County, CA

714.668.5564

Shadae.Bell@lewisbrisbois.com

Attorney Bio

Associate

San Francisco, CA

415.262.8549

Gary.Cerio@lewisbrisbois.com

Attorney Bio

Associate

Salt Lake City, UT

801.251.7358

Patrick.Charest@lewisbrisbois.com

Attorney Bio

Associate

Baltimore, MD

410.525.6405

Carly.Chick@lewisbrisbois.com

Attorney Bio

Associate

San Francisco, CA

415.438.6623

Kristin.Choi@lewisbrisbois.com

Attorney Bio

Associate

New York, NY

646.783.0948

Eve.Chowdhury@lewisbrisbois.com

Attorney Bio

Associate

New York, NY

646.989.9430

Sam.Cohen@lewisbrisbois.com

Attorney Bio

Associate

Boston, MA

857.313.3938

Rachel.Costello@lewisbrisbois.com

Attorney Bio

Associate

Baltimore, MD

410.525.6413

Erica.Cranford@lewisbrisbois.com

Attorney Bio

Associate

Orange County, CA

714.966.3148

Nicholas.DAgostino@lewisbrisbois.com

Attorney Bio

Associate

Orange County, CA

714.668.5574

Lauren.DeLeon@lewisbrisbois.com

Attorney Bio

Associate

Kansas City, MO

816.299.4261

Alexander.DeMasi@lewisbrisbois.com

Attorney Bio

Associate

Raleigh, NC

919.459.6150

Derek.Dittmar@lewisbrisbois.com

Attorney Bio

Associate

Philadelphia, PA

215.977.4093

Conor.Donze@lewisbrisbois.com

Attorney Bio

Associate

Newark, NJ

973.718.3948

Anthony.Doss@lewisbrisbois.com

Attorney Bio

Associate

Los Angeles, CA

213.680.5119

Ryan.Drossel@lewisbrisbois.com

Attorney Bio

Associate

Newark, NJ

973.792.8754

Cristina.Dulay@lewisbrisbois.com

Attorney Bio

Associate

Seattle, WA

206.876.2956

Synova.Edwards@lewisbrisbois.com

Attorney Bio

Associate

Boston, MA

857.313.3952

Lauren.Farley@lewisbrisbois.com

Attorney Bio

Associate

Boston, MA

857.313.3943

Gina.Fleury@lewisbrisbois.com

Attorney Bio

Associate

Portland, OR

971.361.3046

Andrew.Gard@lewisbrisbois.com

Attorney Bio

Associate

New York, NY

646.783.1744

Conrad.Horowitz@lewisbrisbois.com

Attorney Bio

Associate

Lafayette, LA

337.205.4745

Kaylin.Jolivette@lewisbrisbois.com

Attorney Bio

Associate

Orange County, CA

714.966.3173

Brian.Katoozi@lewisbrisbois.com

Attorney Bio

Associate

New York, NY

212.232.1308

Kadeejah.Kelly@lewisbrisbois.com

Attorney Bio

Associate

St. Louis, MO

314.685.8366

Lars.Knutson@lewisbrisbois.com

Attorney Bio

Associate

Boston, MA

857.313.3934

Daniel.Lagosh@lewisbrisbois.com

Attorney Bio

Associate

San Francisco, CA

415.438.5912

Darya.Landa@lewisbrisbois.com

Attorney Bio

Associate

Chicago, IL

312.463.3422

Cameron.Liljestrand@lewisbrisbois.com

Attorney Bio

Associate

Houston, TX

346.241.4957

Randy.Lopez@lewisbrisbois.com

Attorney Bio

Associate

Baltimore, MD

410.525.6406

Zhanna.Magda@lewisbrisbois.com

Attorney Bio

Associate

New York, NY

212.232.1376

Eesha.Malyala@lewisbrisbois.com

Attorney Bio

Associate

Boston, MA

857.313.3956

Sarandos.Markopoulos@lewisbrisbois.com

Attorney Bio

Associate

Houston, TX

713.324.0088

Lucas.Mauro@lewisbrisbois.com

Attorney Bio

Associate

Atlanta, GA

404.476.2062

Stephen.McDonald@lewisbrisbois.com

Attorney Bio

Associate

Miami, FL

786.353.3927

Nicole.Melrose@lewisbrisbois.com

Attorney Bio

Associate

Atlanta, GA

404.476.2016

Stephanie.Miller@lewisbrisbois.com

Attorney Bio

Associate

Northwest Indiana

219.440.0608

Kristanna.Nikitaras@lewisbrisbois.com

Attorney Bio

Associate

New York, NY

646.783.0977

Manuel.Palaguachi@lewisbrisbois.com

Attorney Bio

Associate

Newark, NJ

973.577.6257

Jessica.Rabkin@lewisbrisbois.com

Attorney Bio

Associate

Portland, OR

971.334.7009

Jason.Roberts@lewisbrisbois.com

Attorney Bio

Associate

New York, NY

212.232.1333

Aaron.Smallets@lewisbrisbois.com

Attorney Bio

Associate

New York, NY

646.666.7706

Grace.Song@lewisbrisbois.com

Attorney Bio

Associate

Houston, TX

832.742.6726

John.Spalding@lewisbrisbois.com

Attorney Bio

Associate

Portland, OR

971.334.7028

Patrick.Sullivan-Lovett@lewisbrisbois.com

Attorney Bio

Associate

Boston, MA

857.362.9759

Hannah.Tavella@lewisbrisbois.com

Attorney Bio

Associate

Los Angeles, CA

213.250.1800

Zackary.Terzakarian@lewisbrisbois.com

Attorney Bio

Associate

New York, NY

646.783.0989

Kevin.Torge@lewisbrisbois.com

Attorney Bio

Associate

Lafayette, LA

337.205.4752

Jennifer.Wells@lewisbrisbois.com

Attorney Bio
Related News, Publications & Events