Lewis Brisbois Celebrates Pride Month
Throughout the month of June, Lewis Brisbois will be celebrating and honoring our LGBTQ+ colleagues with a series of messages from our attorneys and staff sharing their perspectives on the meaning of Pride Month, as well as their personal stories regarding their day-to-day experiences in the legal profession and in their communities.
To close our Pride Month series, Lewis Brisbois Chairman and Founding Partner Bob Lewis shares his philosophy that permeates both his professional and personal life, namely, that "people are people." As the leader of the firm, and as the father of a gay son, Bob emphasizes that a person's character, not their sexual orientation or gender identity, is what matters. He also expresses pride for the culture of acceptance that Lewis Brisbois has created.
See all of our Pride Month spotlight posts here.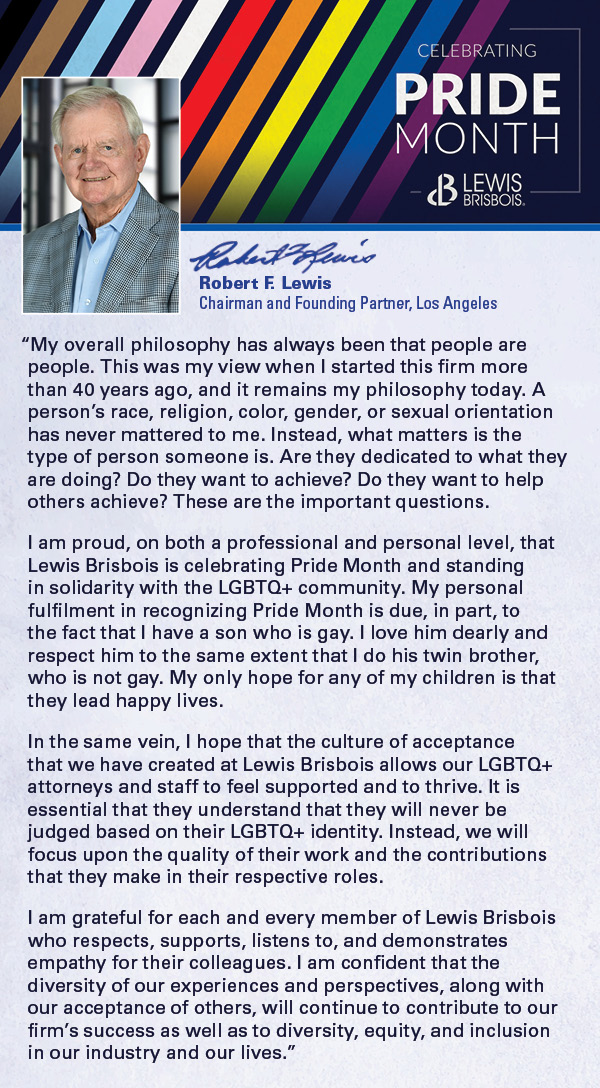 ---
Lewis Brisbois Recognizes Juneteenth
We, the members of Lewis Brisbois' Diversity, Equity & Inclusion Committee, on behalf of the entire Lewis Brisbois family, are proud to recognize Juneteenth this year. Juneteenth is the annual holiday commemorating the end of slavery in the United States. On this day in 1865, slaves in Galveston, Texas were informed of their emancipation - two and a half years after President Lincoln issued the Emancipation Proclamation. While Juneteenth is certainly a time for celebration, it is also a time for reflecting upon the significant work that still needs to be done to combat racism, prejudice, and injustice in our society, as the repercussions of slavery are still present.
Lewis Brisbois remains deeply committed to the principles of equality, justice, and opportunity for all. We continue to pursue these values on a daily basis through the work of our DE&I Committee, as well as our promotion of firmwide education on the power of diversity to enrich our workplace, our communities, our profession, and our everyday lives. As we honor Juneteenth, we invite all to join us in considering the role that each of us has in fighting to eradicate systemic racism, promote social justice, and break the pattern of racial violence that has existed in our country well beyond the end of slavery.
---
Lewis Brisbois Celebrates Asian American Pacific Islander Heritage Month
Throughout the month of May, our Asian American and Pacific Islander American colleagues across the firm shared their diverse experiences and perspectives in a series of spotlight posts for Asian American and Pacific Islander (AAPI) Heritage Month. We thank our AAPI colleagues who contributed their voices to this campaign and all of those who read and shared these messages.
You can see all our AAPI Heritage Month spotlight posts here.
---
Lewis Brisbois Honors Jewish American Heritage Month
As Jewish American Heritage Month continues, Lewis Brisbois is pleased to be honoring the dynamic and diverse history of Jewish people in America, which spans more than 350 years. We are grateful for the Jewish members of our Lewis Brisbois family, as well as for the many important contributions that Jewish people have made to our society.
We celebrate the manner in which Jewish people have consistently advocated for communities outside of their own, continually raising awareness regarding a variety of important social issues. We believe that the culture, traditions, and contributions of Jewish Americans enhance our workplace, our society, and our lives.
We wish a Happy Jewish American Heritage Month to all!
---
Lewis Brisbois Celebrates Arab American Heritage Month
Lewis Brisbois invites you to join us as we recognize and celebrate Arab American Heritage Month this April. This month, we honor the rich history, traditions, contributions, and culture of the diverse population of Arab Americans, including those who are part of the Lewis Brisbois family. We look forward to uplifting and learning more about the millions of individuals of Arab descent, who hail from 22 different countries, and whose invaluable contributions have enriched the economic, political, and cultural landscape of our country and communities.
Lewis Brisbois' diverse attorneys, staff, and clients, including those of Arab descent, enhance our workplace, our professional experiences, and our lives. Indeed, we are proud that our Chief Diversity Partner Rima Badawiya is an Arab American whose dedicated leadership allows us to further our diversity mission throughout our nationwide network. We are grateful for the opportunities that we have, on a regular basis, to connect with and learn from our Arab American colleagues, and we look forward to honoring them throughout April.
We wish a Happy Arab American Heritage Month to all!
---
Lewis Brisbois Honors Black History Month
In honor of Black History Month this year, we highlighted our outstanding Black attorneys from around our nationwide network, beginning with some inspiring words from New York Partner and Co-Chair of the firm's Diversity, Equity & Inclusion Committee Karen L. Campbell. We thank our Black colleagues who contributed their voices to this campaign and all of those who read and shared these messages.
You can see all of these spotlight posts here.
---
A Message to Our Communities
When we opened our doors over 40 years ago, we knew that one of our top priorities was to hire the best attorneys, staff, administrators, assistants, and clerks in every city where we opened an office. This core principle of our firm's culture has resulted in our unique and valued diversity. We are proud to have a highly diverse firm comprising more than 3,000 people across the nation.
Within our firm we have many different lived experiences, and a wide array of views and perspectives, which all contribute to the success we enjoy. We care about each other, we listen to each other, and we respect each other. Recent events underscore the scourge of racism that still plagues our country. We know that horrific acts of brutality as we saw committed against George Floyd in Minnesota, Ahmaud Arbery in Georgia, and Breonna Taylor in Kentucky are not new, and unfortunately are likely not to be the last of their kind. We know that discriminatory acts based on race, sexual orientation, gender, religion, and other characteristics are all too common as well. While we open ourselves to learn and strive for understanding of everyone's personal history and experiences, we recognize and acknowledge the pain these events cause. We stand against racism, discrimination, and violence. We support everyone's First Amendment right to peacefully protest and those peaceful protests give us hope for a better future. We say to every employee of our firm, it is our honor to work with such extraordinary people. We commit to you that Lewis Brisbois will always do its utmost to provide a workplace environment in which everyone is safe and is treated respectfully, and where everyone's voice is heard. We will continue to do our work as members of our communities across the country to raise awareness of injustice and promote fairness.
---
Lewis Brisbois' Commitment to Diversity, Equity, and Inclusion
Diversity, Equity, and Inclusion Mission Statement
Lewis Brisbois' diversity, equity, and inclusion mission is: (i) to strengthen Lewis Brisbois by encouraging the hiring, support, mentoring, promotion, and retention of diverse attorneys and staff based on merit, potential, and effort; (ii) to help the firm better highlight our diversity, thereby leveraging this unique asset in business development, and (iii) to help all lawyers within the firm address disparities in diverse and non-diverse hiring (including lateral hiring), support, and retention. Lewis Brisbois believes that an individual's distinctive circumstance is informed and affected by, among other things, his/her/their gender, race, orientation, family status, religion, ethnicity, age, physical abilities, and other factors. To accomplish the goals stated above, Lewis Brisbois will proactively consider diversity in assessing and supporting each employee in the firm and take active steps to promote diversity in our communities.
The team of lawyers and staff who lead Lewis Brisbois' diversity, equity, and inclusion efforts and initiatives includes: San Bernardino Administrative Partner and National Healthcare Group Co-Chair Rima Badawiya, who serves as the firm's Chief Diversity Partner; Director of Diversity & Business Development Janet Burt; and New York Partner Karen Campbell, along with Los Angeles Partner Alexis Crump, who serve as co-chairs of the firm's Diversity, Equity & Inclusion Committee. Rima, Janet, Karen, and Alexis work directly with the firm's leadership to support and expand our diversity mission, while promoting firmwide education and awareness of diversity and its ability to enrich our workplace, our communities, our profession, and our everyday lives.

Women's Initiative at Lewis Brisbois

Related News, Publications & Events