Lewis Brisbois Recognizes Arab American Heritage Month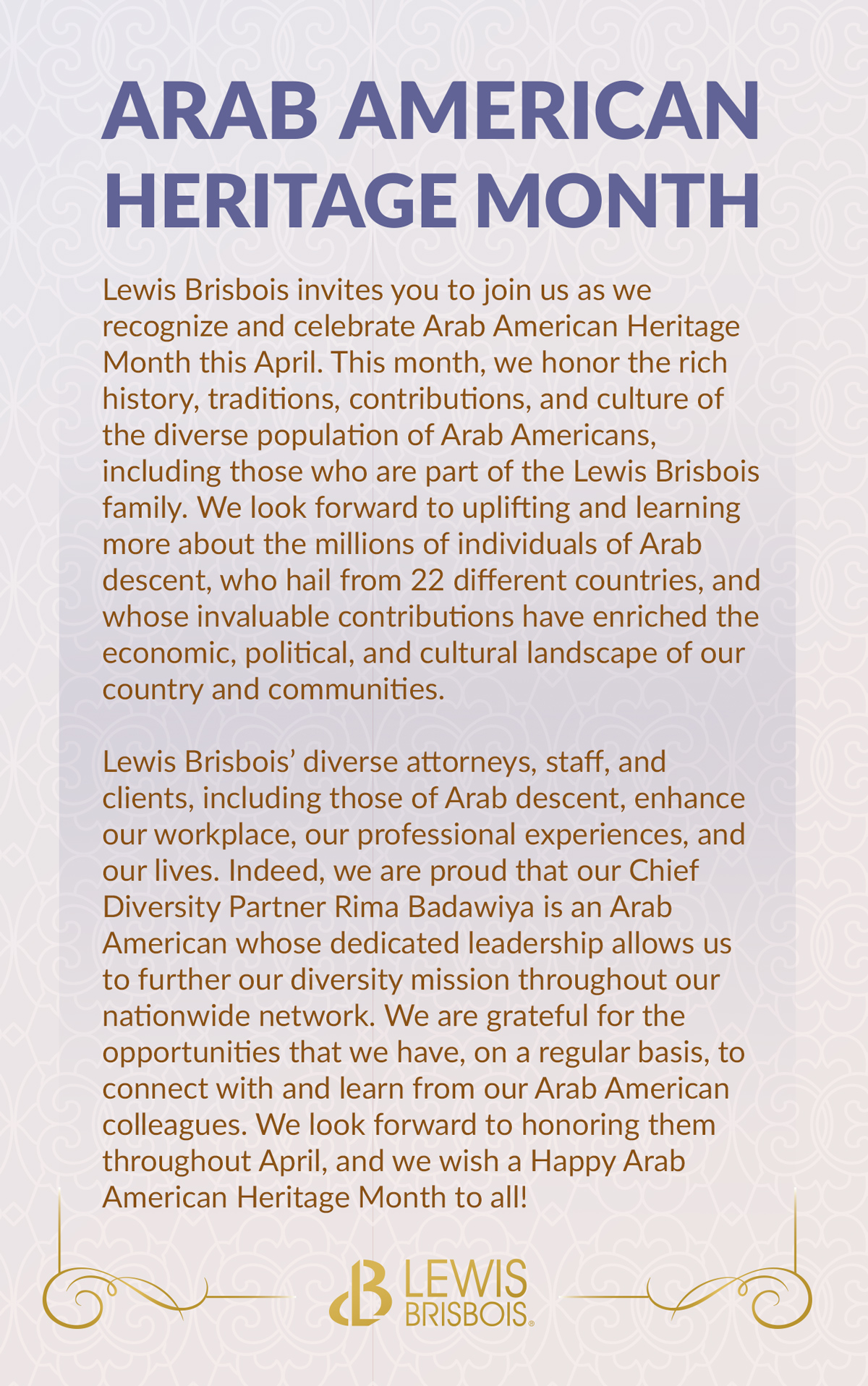 Lewis Brisbois Honors Black History Month
In honor of Black History Month this year, we highlighted our outstanding Black attorneys from around our nationwide network. You can see all of these spotlight posts here.
Lewis Brisbois Appoints Chief Diversity Partner and Director of Diversity & Business Development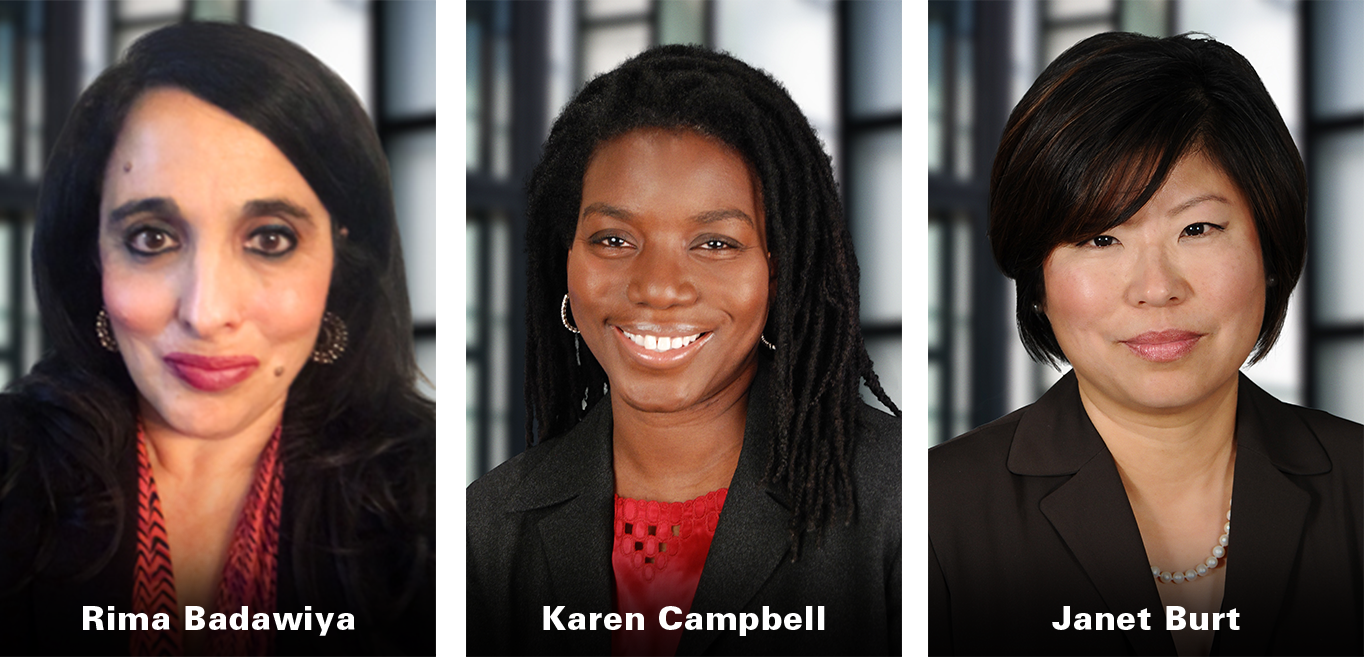 Lewis Brisbois is proud to announce the appointment of San Bernardino Administrative Partner and National Healthcare Group Co-Chair Rima Badawiya to the position of Chief Diversity Partner. Rima and newly-promoted Director of Diversity & Business Development Janet Burt will work with the Executive Committee and Rima's fellow members of the Management Committee, as well as the Diversity & Inclusion Committee chaired by New York Partner Karen Campbell, the Lateral Acquisition Group, and the Chief Strategy Officer, Janet Eskow, to support and expand the firm's diversity mission. Rima and Janet Burt will also work with our administrative team to promote firmwide education and awareness of diversity and its ability to enrich our workplace, our communities, our profession, and our everyday lives. We are proud to reaffirm our ongoing commitment to embrace and celebrate the variety of lived experiences, and the wide array of views and perspectives that all contribute to our success.
A Message to Our Communities
When we opened our doors over 40 years ago, we knew that one of our top priorities was to hire the best attorneys, staff, administrators, assistants, and clerks in every city where we opened an office. This core principle of our firm's culture has resulted in our unique and valued diversity. We are proud to have a highly diverse firm comprising more than 3,000 people across the nation.
Within our firm we have many different lived experiences, and a wide array of views and perspectives, which all contribute to the success we enjoy. We care about each other, we listen to each other, and we respect each other. Recent events underscore the scourge of racism that still plagues our country. We know that horrific acts of brutality as we saw committed against George Floyd in Minnesota, Ahmaud Arbery in Georgia, and Breonna Taylor in Kentucky are not new, and unfortunately are likely not to be the last of their kind. We know that discriminatory acts based on race, sexual orientation, gender, religion, and other characteristics are all too common as well. While we open ourselves to learn and strive for understanding of everyone's personal history and experiences, we recognize and acknowledge the pain these events cause. We stand against racism, discrimination, and violence. We support everyone's First Amendment right to peacefully protest and those peaceful protests give us hope for a better future. We say to every employee of our firm, it is our honor to work with such extraordinary people. We commit to you that Lewis Brisbois will always do its utmost to provide a workplace environment in which everyone is safe and is treated respectfully, and where everyone's voice is heard. We will continue to do our work as members of our communities across the country to raise awareness of injustice and promote fairness.
Lewis Brisbois' Commitment to Diversity and Inclusion
Diversity and Inclusion Mission Statement
Lewis Brisbois' diversity and inclusion mission is: (i) to strengthen Lewis Brisbois by encouraging the hiring, support, mentoring, promotion, and retention of diverse attorneys and staff based on merit, potential, and effort; (ii) to help the firm better highlight our diversity, thereby leveraging this unique asset in business development, and (iii) to help all lawyers within the firm address disparities in diverse and non-diverse hiring (including lateral hiring), support, and retention. Lewis Brisbois believes that an individual's distinctive circumstance is informed and affected by, among other things, his/her/their gender, race, orientation, family status, religion, ethnicity, age, physical abilities, and other factors. To accomplish the goals stated above, Lewis Brisbois will proactively consider diversity in assessing and supporting each employee in the firm and take active steps to promote diversity in our communities.
Women's Initiative at Lewis Brisbois

Related News, Publications & Events