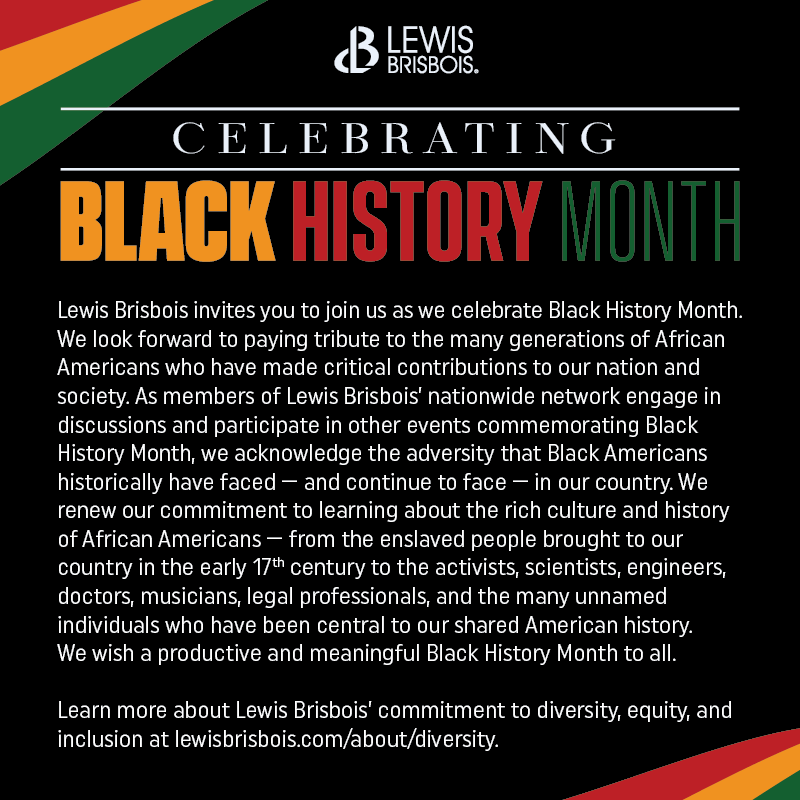 ---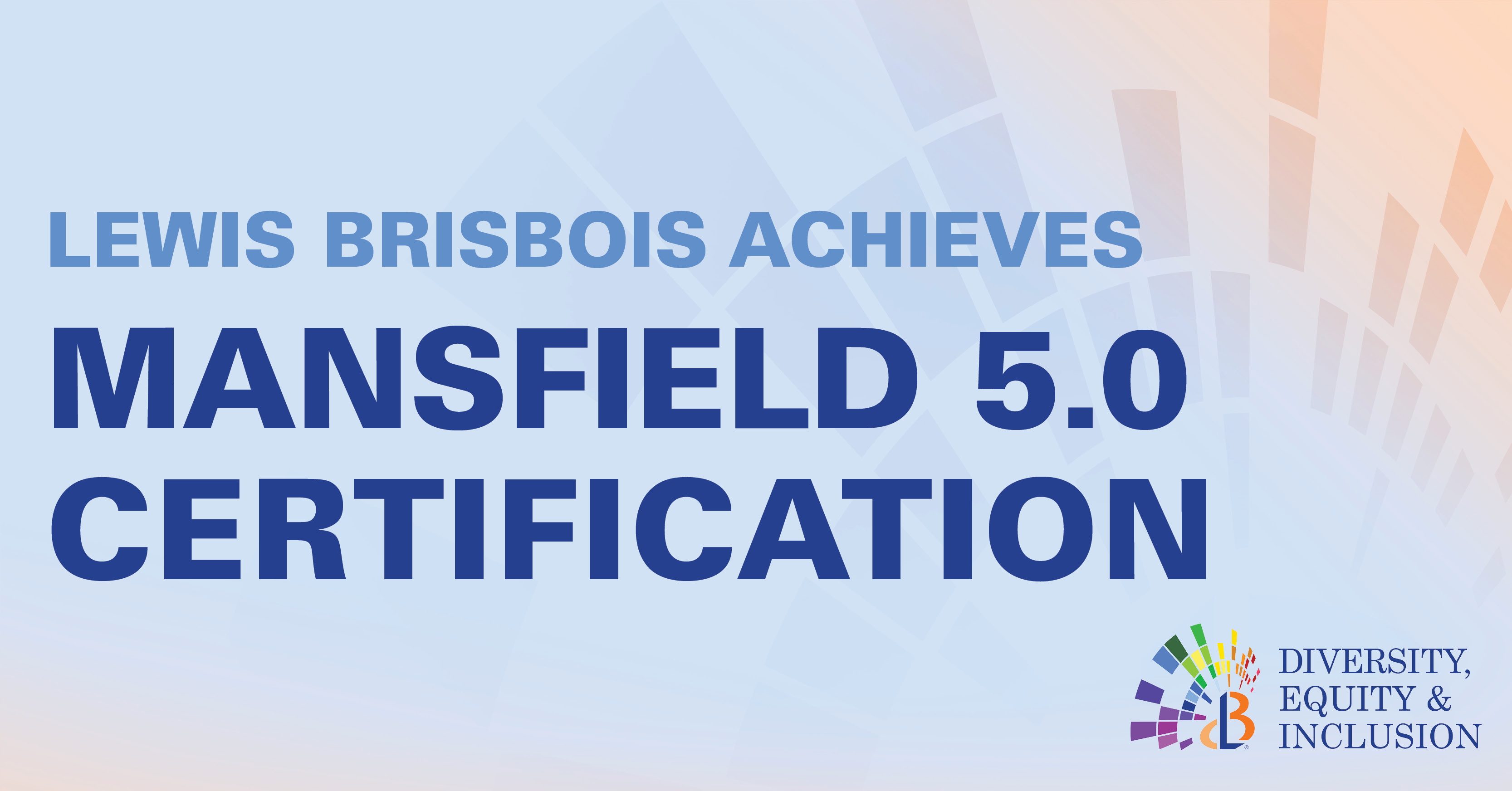 Lewis Brisbois is pleased to announce that it has achieved Mansfield 5.0 Certification. This achievement demonstrates that Lewis Brisbois took deliberate steps to ensure that at least 30% of the individuals considered for leadership positions within the firm were members of traditionally underrepresented groups. To achieve the certification, Lewis Brisbois collaborated with Diversity Lab over a 12-month period, which included built-in measurement, transparency, and accountability mechanisms. The firm has now moved on to participating in the Mansfield 6.0 certification process.
Chief Diversity Partner Rima Badawiya expressed excitement about the firm's achievement as well as continued resolve regarding its diversity efforts. "We are absolutely thrilled to achieve this milestone that represents deliberate, diligent, and tireless efforts on our part to promote our longstanding goals of diversity, equity, and inclusion. It signifies our firm's commitment through actions to the importance of ensuring diversity in legal representation," Ms. Badawiya said. "We look forward to our continued partnership with Diversity Lab as we pursue Mansfield 6.0 certification alongside other exceptional firms that share our values."
Since its inception six years ago, the goal of the Mansfield Rule has been to increase and sustain diversity in law firm leadership by broadening the pool of women lawyers, LGBTQ lawyers, lawyers with disabilities, and lawyers from historically underrepresented racial and ethnic groups who are considered for senior lateral attorney job openings, firm governance opportunities, equity partner promotions, and firm leadership positions.
Learn more about Diversity Labs here.
---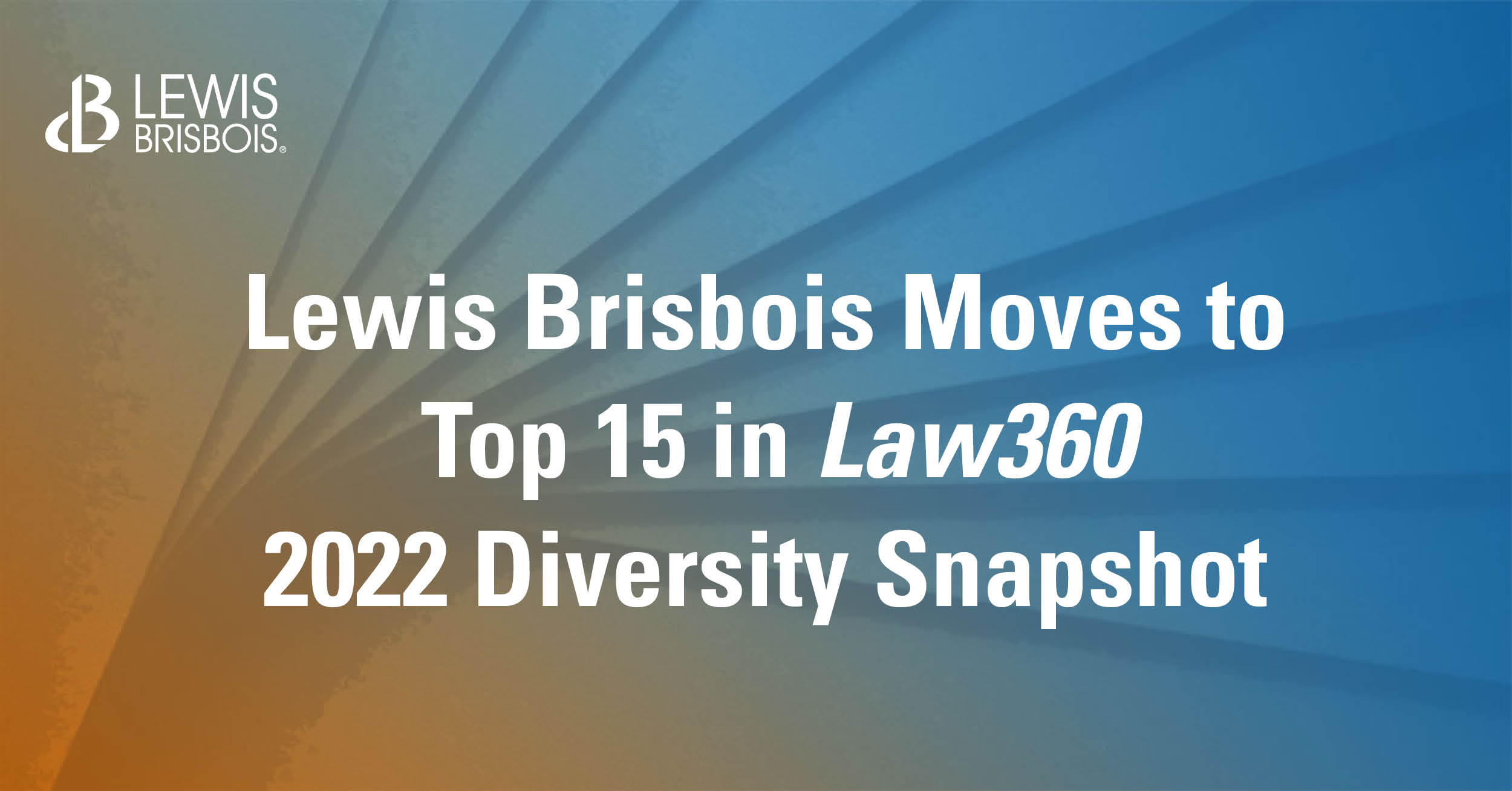 Lewis Brisbois has ranked 13th in Law360's 2022 Diversity Snapshot – a measure of the overall presence of individuals from underrepresented backgrounds in law firms of all sizes.
Throughout Lewis Brisbois' history, the firm has been recognized for high achievements in the areas of diversity, equity, and inclusion. Over the past year, its focus on capturing the full picture of its diversity has led to the firm's rise in several diversity rankings – including the Law360 Diversity Snapshot. As described in the Law360 Pulse article, "Diversity Snapshot: Representation in the Ranks," the Diversity Snapshot serves as a "comprehensive ranking of law firms on their overall representation of minority attorneys," providing "a picture of where firms are now, and where the future might lead."
Moreover, as explained in the main article of this special publication, "Diversity Snapshot: How Firms Stack Up," Law360 used its own historical surveys as well as data from the American Bar Association to evaluate the diversity in firm headcounts against benchmarks that reflected diversity in the potential marketplace of new hires. Lewis Brisbois' efforts to capture its diversity numbers has led to a significant increase in the firm's position from 58th to 13th. This year's Snapshot includes 291 law firms, with 75 in the 600+ attorneys category.
Commenting on the firm's improved ranking, Chief Diversity Partner Rima M. Badawiya said, "On behalf of our Diversity, Equity, and Inclusion Committee, we are extremely proud that Lewis Brisbois has advanced so significantly in the Diversity Snapshot report. We believe that our ranking this year is a reflection of our efforts to educate ourselves regarding the diversity that exists across our nationwide network, as well as our ongoing commitment to the values of diversity, equity, and inclusion, which the firm promotes at all levels and in all of our 55 offices. We will continue to work hard to hire and reward exceptional, diverse legal talent and to maintain our inclusive atmosphere of opportunity."
Regarding the firm's ongoing diversity efforts, Ms. Badawiya also noted, "There is always more work to be done in the diversity arena, and Lewis Brisbois is committed to putting action to our words. It is gratifying to set and reach new goals."
Learn more about Law360's Diversity Snapshot here (subscription required).
---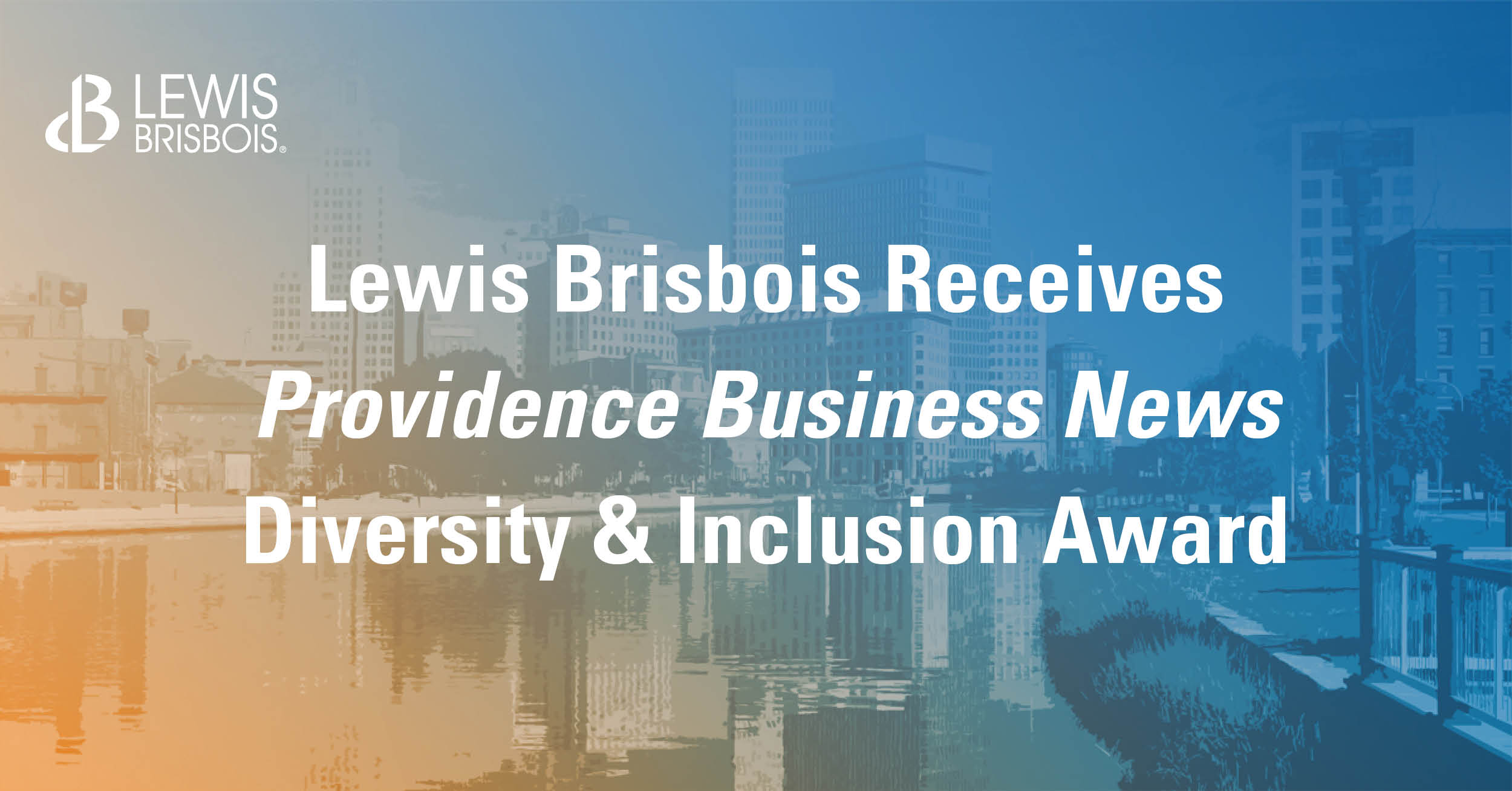 Lewis Brisbois Receives Providence Business News Diversity & Inclusion Award
Lewis Brisbois has received a Providence Business News (PBN) 2022 Diversity & Inclusion Award, which recognizes local organizations' commitment to promoting and enhancing diversity and inclusion in the workplace. According to a PBN article, Lewis Brisbois is the only organization that the publication recognized in its legal category. The firm will be honored alongside fellow award recipients from other industries at PBN's 2022 Diversity & Inclusion Summit and Awards program, taking place on December 1 at 9:00 a.m. ET at the Crowne Plaza Hotel cin Warwick, Rhode Island.
In discussing the award, Providence Managing Partner Lauren Motola-Davis said, "I am proud that Lewis Brisbois is the only law firm in Rhode Island to have received this honor from Providence Business News. This recognition is a testament to all the effort we have always invested in our diversity and inclusion initiatives." She added, "I want to thank Partner Gregory Tumolo in our Providence office and all the members of our DEI Committee for their continued hard work."
Similarly, Chief Diversity Partner Rima Badawiya stated, "I am so pleased that Lewis Brisbois has received this recognition for its diversity and inclusion efforts. Congratulations to our Providence office on this well-deserved award!"
The PBN awards program in December will feature a summit and panel discussions on diversity and inclusion. PBN will announce discussion topics and participating panelists at a later date.
Learn more about PBN's Diversity & Inclusion Awards here and register for the summit and awards program here.
---
Lewis Brisbois' Commitment to Diversity, Equity, and Inclusion
Diversity, Equity, and Inclusion Mission Statement
Lewis Brisbois' diversity, equity, and inclusion mission is: (i) to strengthen Lewis Brisbois by encouraging the hiring, support, mentoring, promotion, and retention of diverse attorneys and staff based on merit, potential, and effort; (ii) to help the firm better highlight our diversity, thereby leveraging this unique asset in business development, and (iii) to help all lawyers within the firm address disparities in diverse and non-diverse hiring (including lateral hiring), support, and retention. Lewis Brisbois believes that an individual's distinctive circumstance is informed and affected by, among other things, his/her/their gender, race, orientation, family status, religion, ethnicity, age, physical abilities, and other factors. To accomplish the goals stated above, Lewis Brisbois will proactively consider diversity in assessing and supporting each employee in the firm and take active steps to promote diversity in our communities.
The team of lawyers and staff who lead Lewis Brisbois' diversity, equity, and inclusion efforts and initiatives includes: San Bernardino Administrative Partner and National Healthcare Group Co-Chair Rima Badawiya, who serves as the firm's Chief Diversity Partner; Director of Diversity & Business Development Janet Burt; and New York Partner Karen Campbell, along with Los Angeles Partner Alexis Crump, who serve as co-chairs of the firm's Diversity, Equity & Inclusion Committee. Rima, Janet, Karen, and Alexis work directly with the firm's leadership to support and expand our diversity mission, while promoting firmwide education and awareness of diversity and its ability to enrich our workplace, our communities, our profession, and our everyday lives.

---
Lewis Brisbois Celebrates National Hispanic Heritage Month 2022
In honor of National Hispanic Heritage Month this year (September 15 through October 15), Lewis Brisbois shared a series of spotlight posts featuring our Hispanic American colleagues reflecting upon the importance of this month and mentorship within the Hispanic and legal communities. You can see all these spotlight posts here.
---
Lewis Brisbois Celebrates Pride Month 2022
Throughout June, Lewis Brisbois honored our LGBTQ colleagues and the LGBTQ community at large with a month-long spotlight series during which we shared reflections from LGBTQ members of our Lewis Brisbois family. You can see these posts here. Learn more about Lewis Brisbois' LGBTQ Affinity Group here.
---
Lewis Brisbois Celebrates Asian American & Pacific Islander Heritage Month 2022
Throughout May, Lewis Brisbois celebrated the culture and contributions of Asian Americans and Pacific Islander (AAPI) Americans with a series of spotlight posts from our AAPI colleagues sharing their diverse experiences and perspectives on mentorship. You can see all these spotlight posts here.
---
Lewis Brisbois Celebrates Women's History Month 2022
Throughout March, Lewis Brisbois celebrated Women's History Month by shining a spotlight on some of the exceptional women attorneys from across our nationwide network, who shared their perspectives on the importance of mentorship. You can see all these spotlight posts here. Learn more about Lewis Brisbois' Women's Initiative here.
---
Lewis Brisbois Celebrates Black History Month 2022
Throughout February, Lewis Brisbois shared the thoughts and reflections of our Black colleagues on the importance of mentorship and honoring Black History Month. You can see all these spotlight posts here.
---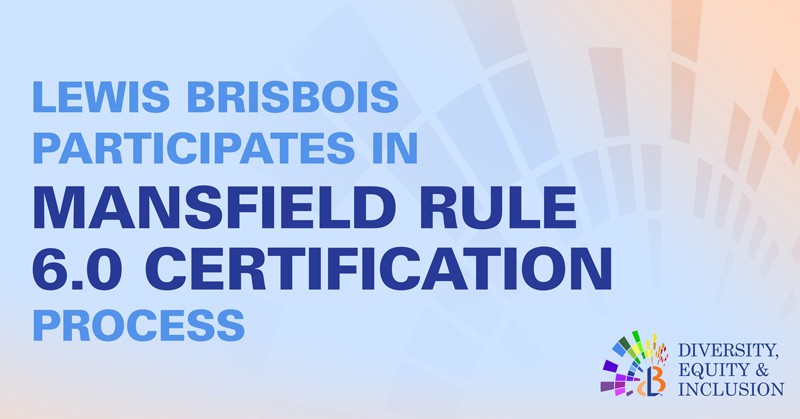 Lewis Brisbois is proud to announce that the firm is participating in the Mansfield Rule 6.0 certification process, which is administered by Diversity Lab and aimed at increasing and sustaining diversity in law firm leadership. Lewis Brisbois' participation in the newest version of the Mansfield certification follows its successful completion of the Mansfield Rule 5.0 certification process.
As described in Diversity Lab's recent press release, Mansfield 6.0 launched in July of this year and includes more than 180 law firms nationwide. The parameters for the 2022-2023 certification process have expanded in scope, making them the most rigorous to date. Specifically, the 6.0 version requires law firms to consider at least 30% historically underrepresented lawyers when appointing to firm leadership roles and promoting attorneys into equity partnership, as well as with respect to other activities that focus on the path to leadership. Moreover, Mansfield 6.0 includes a "Certification Plus" category, which evaluates whether firms have actually achieved diversity in leadership, as opposed to simply considering it.
Lewis Brisbois' Chief Diversity Partner Rima M. Badawiya expressed enthusiasm about Lewis Brisbois' ongoing work with Diversity Lab, noting, "Our decision to participate in the Mansfield certification process again this year aligns with our longstanding diversity, equity, and inclusion goals. Our work with Diversity Lab is an important component of our many diversity initiatives, and we are proud to participate alongside other firms that share our values. We look forward to achieving Mansfield 6.0 certification in 2023."
Learn more about Diversity Labs here.
---
A Message to Our Communities (shared Summer 2020)
When we opened our doors over 40 years ago, we knew that one of our top priorities was to hire the best attorneys, staff, administrators, assistants, and clerks in every city where we opened an office. This core principle of our firm's culture has resulted in our unique and valued diversity. We are proud to have a highly diverse firm comprising more than 3,000 people across the nation.
Within our firm we have many different lived experiences, and a wide array of views and perspectives, which all contribute to the success we enjoy. We care about each other, we listen to each other, and we respect each other. Recent events underscore the scourge of racism that still plagues our country. We know that horrific acts of brutality as we saw committed against George Floyd in Minnesota, Ahmaud Arbery in Georgia, and Breonna Taylor in Kentucky are not new, and unfortunately are likely not to be the last of their kind. We know that discriminatory acts based on race, sexual orientation, gender, religion, and other characteristics are all too common as well. While we open ourselves to learn and strive for understanding of everyone's personal history and experiences, we recognize and acknowledge the pain these events cause. We stand against racism, discrimination, and violence. We support everyone's First Amendment right to peacefully protest and those peaceful protests give us hope for a better future. We say to every employee of our firm, it is our honor to work with such extraordinary people. We commit to you that Lewis Brisbois will always do its utmost to provide a workplace environment in which everyone is safe and is treated respectfully, and where everyone's voice is heard. We will continue to do our work as members of our communities across the country to raise awareness of injustice and promote fairness.
Women's Initiative at Lewis Brisbois

Related News, Publications & Events