Our New York Trial Team's Commitment to Continued Service During the Outbreak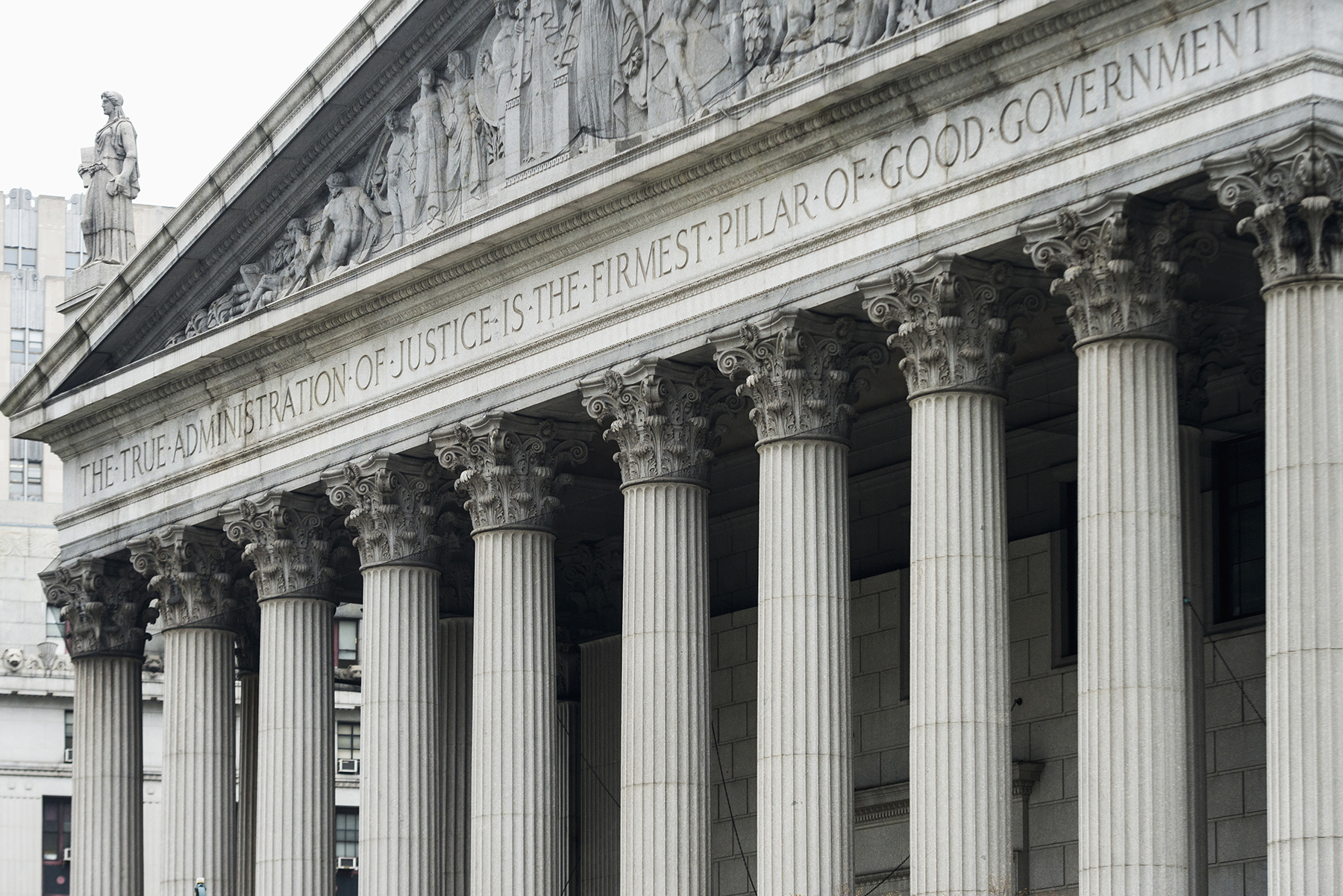 New York, N.Y. (March 18, 2020) - As courts across the nation continue to restrict activities in response to the COVID-19 outbreak, Lewis Brisbois remains committed to maintaining our usual level of excellent service to our clients.

In New York, our deep bench of experienced trial attorneys stand ready to accept new cases, even during these challenging times. Additionally, our trial attorneys can make accommodations for whatever situation a client may be facing, including video and teleconferencing or local travel, to ensure matters receive our immediate attention.
We also anticipate an onslaught of cases to be filed in the wake of this crisis, and are enacting measures to handle such an increase when court functions return to normal. Our attorneys are closely monitoring developments in the New York court system and are available to answer any of your questions.

Additionally, we expect that when the various stays are lifted and courthouses are opened again, courts will likely attempt to push the backlog of cases through to trial and will not be willing to entertain requests for adjournments. Therefore, we are also available to help you get a jump start on preparing for trial any cases that may have been adjourned, in courts across the state and throughout the country, by reviewing depositions, working with and consulting on expert retention, and providing additional trial preparation so that the case is ready to go when the time comes. You can be assured that plaintiffs' attorneys will be working on preparing cases for trial.

Prior to this pandemic, our New York and National Trial Teams have helped countless clients successfully navigate the judicial system, and we will continue to do so throughout this current crisis and beyond. To learn more about our trial attorneys, visit our National Trial Practice page. You can also visit our firm website for trial alerts highlighting some of our recent wins. Our New York office has a dedicated trial team and an appellate team that continually win cases in some of the toughest jurisdictions in the state.
If you have any questions or wish to discuss our ability to assist you, please feel free to contact Gregory S. Katz at 212-232-1378 or Greg.Katz@lewisbrisbois.com.

Lewis Brisbois has also formed a COVID-19 Attorney Response Team to address the myriad legal issues that will arise from this outbreak. You can learn more about this team on our COVID-19 Response Resource Center, and find legal alerts on a range of topics, including insurance coverage, antitrust & compliance, labor & employment, contracts, banking & finance, cybersecurity, elder care, and more.
Our New York Trial & Appellate Partners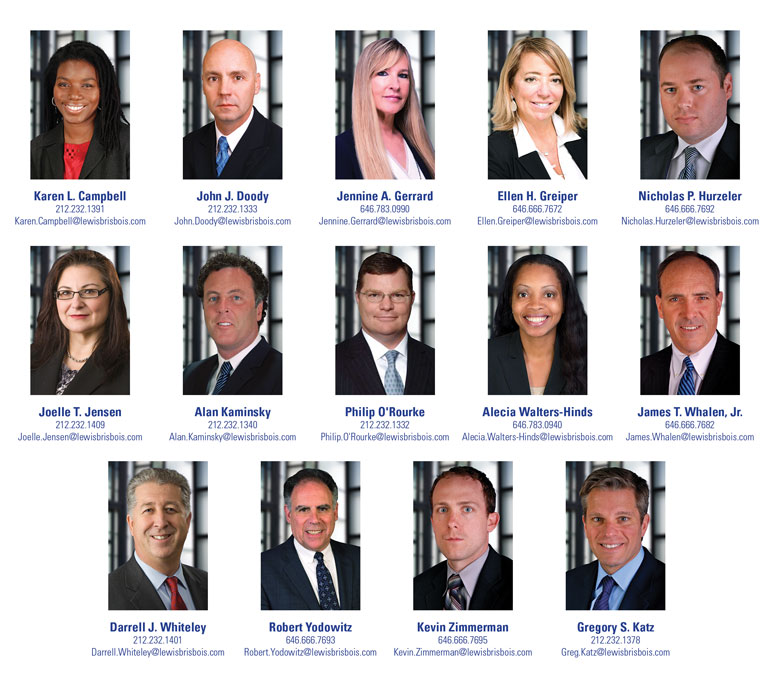 Related Attorneys
Partners

Karen Campbell

Partner

New York, NY

Newark, NJ

212.232.1391

Karen.Campbell@lewisbrisbois.com

Attorney Bio

John Doody

Partner

New York, NY

Fort Lauderdale, FL

Hartford, CT

212.232.1333

John.Doody@lewisbrisbois.com

Attorney Bio

Jennine Gerrard

Partner

New York, NY

646.783.0990

Jennine.Gerrard@lewisbrisbois.com

Attorney Bio

Ellen Greiper

Partner

New York, NY

646.666.7672

Ellen.Greiper@lewisbrisbois.com

Attorney Bio

Nicholas Hurzeler

Partner

New York, NY

646.666.7692

Nicholas.Hurzeler@lewisbrisbois.com

Attorney Bio

Joelle Jensen

Partner

New York, NY

212.232.1409

Joelle.Jensen@lewisbrisbois.com

Attorney Bio

Alan Kaminsky

Partner

New York, NY

212.232.1340

Alan.Kaminsky@lewisbrisbois.com

Attorney Bio

Philip O'Rourke

Partner

New York, NY

212.232.1332

Philip.O'Rourke@lewisbrisbois.com

Attorney Bio

Alecia Walters-Hinds

Partner

New York, NY

Hartford, CT

646.783.0940

Alecia.Walters-Hinds@lewisbrisbois.com

Attorney Bio

James Whalen, Jr.

Partner

New York, NY

646.666.7682

James.Whalen@lewisbrisbois.com

Attorney Bio

Darrell Whiteley

Partner

New York, NY

212.232.1401

Darrell.Whiteley@lewisbrisbois.com

Attorney Bio

Robert Yodowitz

Partner

New York, NY

646.666.7693

Robert.Yodowitz@lewisbrisbois.com

Attorney Bio

Kevin Zimmerman

Partner

New York, NY

Hartford, CT

646.666.7695

Kevin.Zimmerman@lewisbrisbois.com

Attorney Bio