Phone: 646.783.0940
Fax: 212.232.1399
Alecia Walters-Hinds is the Administrative Partner of the New York office of Lewis Brisbois, a partner for the Hartford office, and a vice-chair of the General Liability Practice. She is also a member of the Healthcare and Medical Malpractice practice. She is also a trial attorney and the Immediate Past President of New York City American Board Of Trial Advocates (ABOTA). Her practice focuses on defense of claims in a variety of areas. She specializes in the handling of high exposure and catastrophic injuries that range from general liability to medical malpractice claims. Ms. Walters-Hinds represents physicians, nurses, dentists and pharmacists. In addition, she also represents hospitals, outpatient medical facilities, assisted living facilities, nursing homes, and long-term care providers. She has defended municipal and social service agencies. She also supervises a team and handles wrongful deaths, healthcare, medical malpractice, construction, labor law, dram shop, toxic tort, premises, motor vehicle (personal and commercial), and property damage claims. Ms. Walters-Hinds has prior experience defending municipal and social service agencies against employment discrimination and labor law claims.
Ms. Walters-Hinds has obtained many defense verdicts and verdicts involving awards of low amounts in cases in Brooklyn, New York, Bronx, Queens, Nassau, and in the Southern and Eastern Districts of New York. In addition, she has mediated and handled the negotiation of favorable settlements both before and during trial.
She has tried over 100 cases and taken over 50 verdicts. She began her career at the New York City Law Department Corporation Counsel, and then went to one of the largest insurance defense firms in New York. She has handled a lot of high exposure cases resulting in favorable verdicts or favorable resolutions through mediation or during trial.
She specializes in catastrophic injuries and those cases where plaintiffs rely upon sympathy for large awards. She enjoys meeting with clients and prepping them for trial.
She is the Immediate Past President for the New York City Chapter of American Board of Trial Advocates (ABOTA). ABOTA is a national organization of experienced trial lawyers and Judges dedicated to the preservation and promotion of the right to civil jury trials provided by the Seventh Amendment of the Constitution. Ms. Walters-Hinds has also been named to Super Lawyers, Rising Stars for excellence in practice. She has published best practices articles in the New York Law Journal and New York State Bar Association's One on One. She has also been a presenter at Continuing Legal Education courses on Trial Advocacy.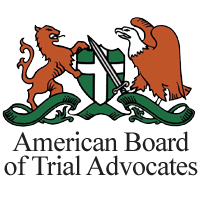 Publications
Author, "A Trial Attorney's Perspective on Trials during the Covid-19 Pandemic," published by New York State Bar Association, Trial Lawyer's Section Digest, December 2021
Author, "The Insurer Versus Insured," published by New York State Bar Association "One On One," 2012
Author, "Insurance Defense Counsel's Approach to the Tripartite Relationship," published by New York Law Journal, March 28, 2012
Professional Presentations
Presenter, "Trial Masters: Where Have We Been and Where Are We Going," American Bar Association TIPS (Tort Trial and Insurance Practice) & YLD (Young Lawyers Division) Section Conference, May 4, 2023
Presenter, "Handle with Care: Special Considerations in Investigating Wrongful Death Cases," Annual CLM Conference, Tampa, Florida, March 30, 2023
Admissions
State Bar Admissions
United States District Courts

United States District Court for the Eastern District of New York
United States District Court for the Southern District of New York
Admissions
New York
Connecticut
United States District Courts
Southern and Eastern Districts of New York
Associations
Immediate Past President, American Board of Trial Advocates, New York City Chapter
Member, Metropolitan Black Bar Association
Board Member, Neighborhood Housing Services of East Flatbush
Member, Brooklyn Women's Bar Association
Member, International Society of Barristers
Small Claims Court Arbitrator
New York City Trial Lawyers Alliance (NYCTLA), Member
Education
Hofstra University School of Law
Juris Doctor
Boston College
Bachelor of Arts

Back to Attorneys