Lewis Brisbois Celebrates 10th Anniversary of Madison County, Illinois Office
Edwardsville, Ill. (August 3, 2022) - On July 19, 2022, Lewis Brisbois celebrated the 10th anniversary of the opening of its Madison County, Illinois office – a location that was established in 2012 when Madison County Managing Partner Jeffrey Bash, along with Partners Matthew J. Morris and Chase S. Anderson, set up shop in Mr. Bash's basement. Today, nearly 50 attorneys and other business professionals make up Lewis Brisbois' Madison County team, which occupies the entire top floor of a building bearing the firm's name, prominently located directly across from the Madison County Courthouse in downtown Edwardsville, Illinois.
"I am so proud of the growth of this office," said Mr. Bash of the office's development. "We have tremendous lawyers who can litigate cases, advise businesses, and manage litigation needs nationwide utilizing our 55 offices and 1,600 lawyers. During the last 10 years, we've handled more than 20,000 matters and helped our clients effectively navigate litigation in some of the most notoriously plaintiff-friendly venues in the country."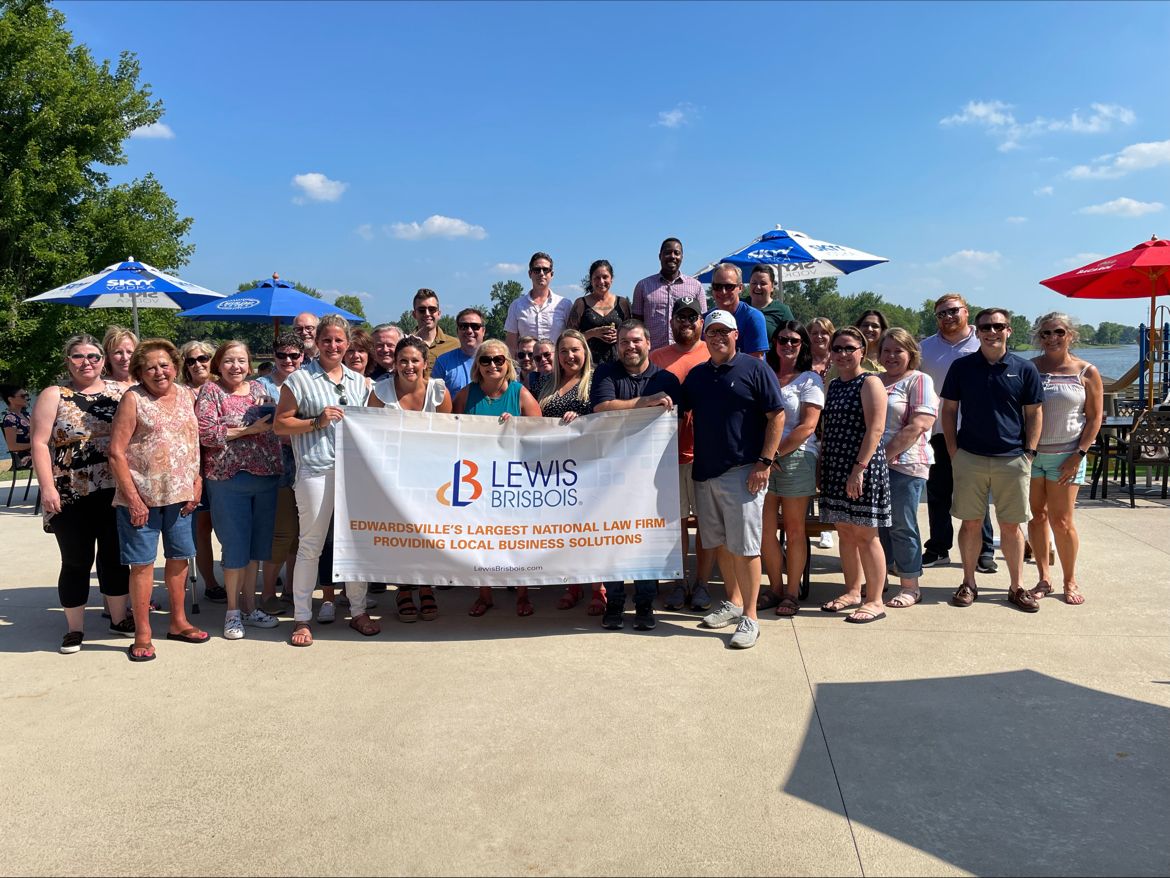 Located just 17 miles from St. Louis, Missouri, the Madison County office is able to serve clients in both the metropolitan St. Louis and downstate Illinois areas. In reflecting upon the office's unique location and client base, Mr. Bash noted, "One of the things we pride ourselves on is the representation we're able to provide to clients here in Madison County as well as the greater Metro St. Louis region." He further explained that the "office opened from a desire of firm clients to have representation" in this particular geographic area and while it started small, through the support of clients and amazing employees, the firm's presence is now strongly rooted in Edwardsville and the surrounding communities.
The office's 20 attorneys, four paralegals, and other professionals currently provide clients with an array of services in areas including toxic tort (asbestos, benzene, and talc), general liability, labor and employment, government relations, business practices, intellectual property, insurance coverage, healthcare, collections, construction, and appellate advocacy. In addition, the office includes attorneys who regularly take cases to trial - including an American Board of Trial Advocates (ABOTA) member who has tried over 130 jury trials to verdict – as well as lawyers who serve on national coordinating counsel teams for nationwide clients.
Mr. Bash, who serves as national coordinating counsel for several such clients, explained that in addition to maintaining thriving practices, Lewis Brisbois' Madison County lawyers are heavily invested in their communities. "We have an incredible group of people that are not only great lawyers but routinely give back to the community through charitable contributions, serving on local boards, representation of local and national businesses, and navigating difficult lawsuits," said Mr. Bash.
Learn more about Lewis Brisbois' Madison County office here and the firm here. Read the August 17, 2012 article from the St. Clair Record about the opening of the office here.
Related Attorneys