Lewis Brisbois Celebrates Pride Month
(June 2021) - Throughout the month of June, Lewis Brisbois will be celebrating and honoring our LGBTQ+ colleagues with a series of messages from our attorneys and staff sharing their perspectives on the meaning of Pride Month, as well as their personal stories regarding their day-to-day experiences in the legal profession and in their communities. We will be compiling all of these messages here. Learn more about Diversity & Inclusion at Lewis Brisbois here.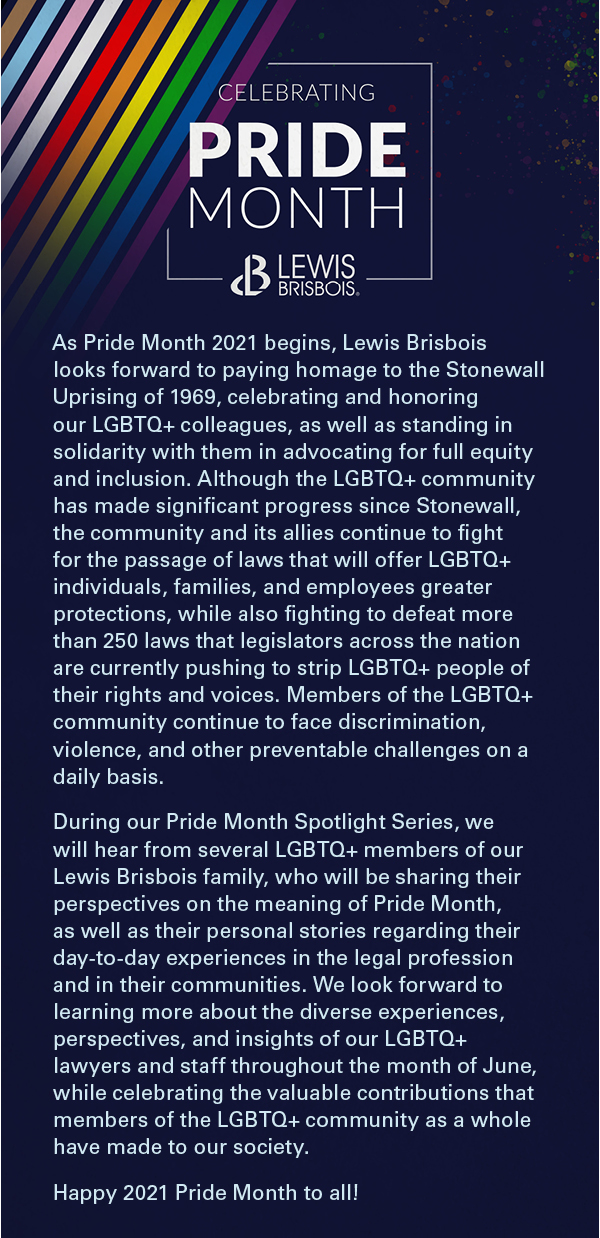 The first contribution in our Pride Month Spotlight series comes from Hartford Managing Partner Angeline N. Ioannou, who points out that members of the LBGTQ+ community are underrepresented in the legal profession. She describes how she became the best version of herself when she stopped hiding her identity in the workplace and freed herself from the weight of secrecy.
Angie is a member of Lewis Brisbois' Healthcare and General Liability Practices. She has more than 20 years of litigation experience and splits her practice between handling healthcare matters and defending complex tort and commercial liability claims involving wrongful death and catastrophic injuries.
Learn more about Angie's professional experience here.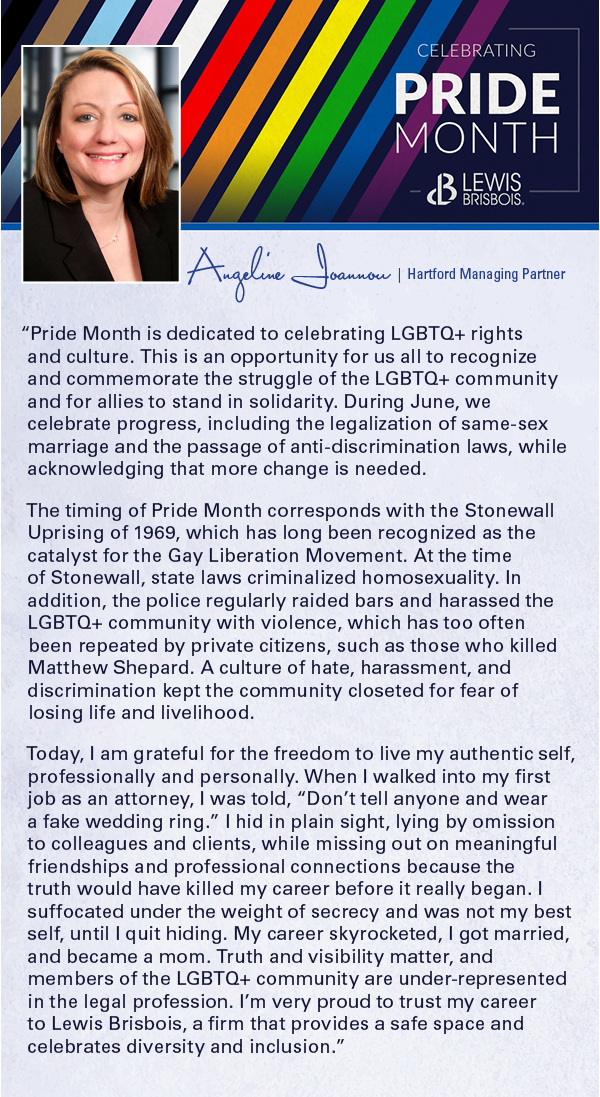 As our Pride Month spotlight series continues, today we hear from Denver Partner Jon Olafson, who describes the obstacles he faced as a child. Reminding us that "love is love," Jon emphasizes the importance of remaining sensitive to the needs of individuals in the LGBTQ+ community.
Jon is a member of Lewis Brisbois' Labor & Employment Practice and has extensive experience advising clients on trade secret and corporate espionage matters, complex commercial disputes, wage and hour issues, and more. He is also the founder and co-editor of the firm's labor & employment law blog, The Grindstone. Jon was recently appointed to the Colorado Bar Association's Executive Council and serves as chair of its Racial Justice, Equity, Diversity, and Inclusivity Committee.
Learn more about Jon's professional experience here.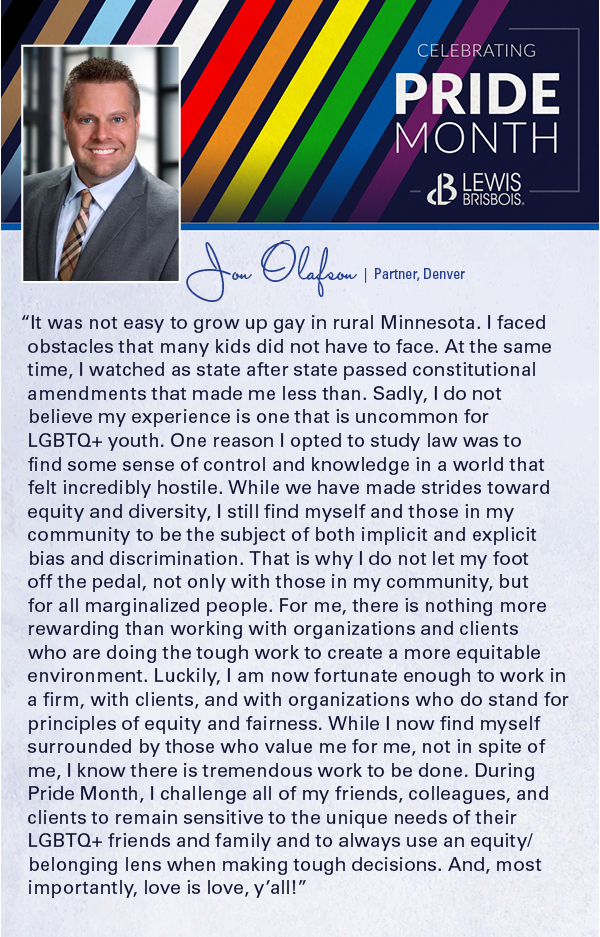 In the next contribution to our Pride Month spotlight series, San Bernardino Partner Dean McVay expresses his gratitude for firms like Lewis Brisbois that recognize diversity and inclusion as a strength. He also recalls a time when this was not always the case and notes there is still much work to be done to bring equity to the LGBTQ+ community.
Dean is a member of the firm's Healthcare and Insurance Coverage Practices, with over 30 years' experience in civil litigation. Outside of his practice, he is an adjunct professor at La Verne College of Law.
Learn more about Dean's professional experience here.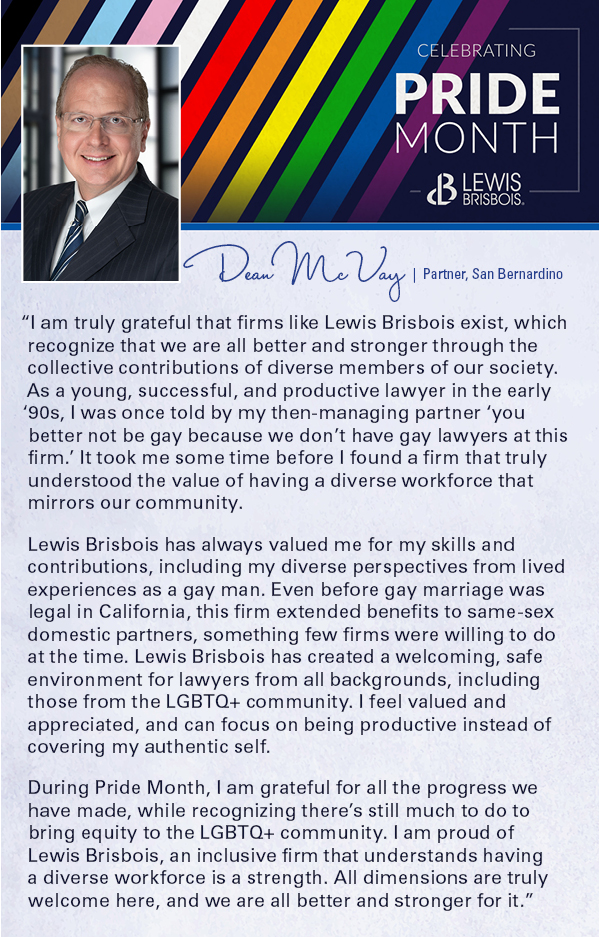 Next up in our Pride Month spotlight series is Fort Lauderdale Office Administrator Trish Spiller, who reflects upon her journey from having a great husband and three wonderful children, to meeting the woman of her dreams and making the hardest decision of her life to come out and be true to herself. Now, feeling more fulfilled and happier than ever, Trish hopes to inspire others who are hesitant to leave their past behind and begin a path to greater happiness.
Learn more about Trish's professional experience here.
Learn more about diversity, equity, and inclusion at Lewis Brisbois here.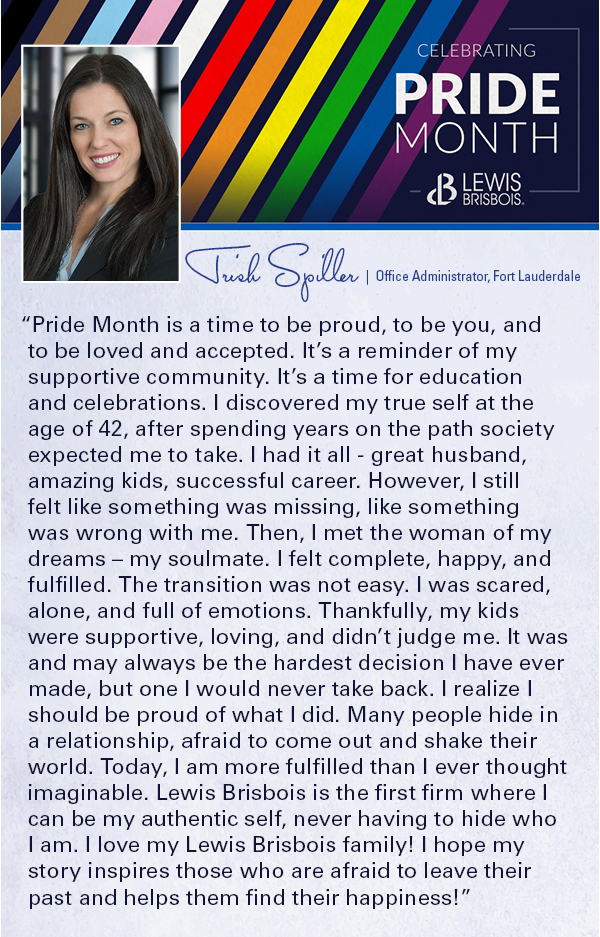 Related Attorneys