Sean Healy is the co-managing partner in the Phoenix office of Lewis Brisbois and is chair of the Directors & Officers and Securities Litigation Practice and vice chair of the Professional Liability Practice. With more than 25 years of experience as a litigator, he has tried 46 jury trials and over 130 bench trials and arbitrations combined. He is a member of ABOTA.
He has litigated a variety of director and officer matters and professional liability cases, including claims against securities brokers, insurance agents, software engineers ("Tech E & O"), real estate agents, architects and engineers, lawyers, and construction industry professionals. In addition to defending professionals in civil actions, he has also represented clients in employment disputes involving allegations of discrimination and ADA matters.
Mr. Healy has also litigated complex commercial disputes and cases that involve wrongful death, catastrophic vehicular accidents, trucking accidents, road design, police and fire department procedures, products liability, and premises liability. Finally, he has handled dram shop and medical malpractice claims.
He began his career as a prosecutor in 1997 and has been in civil practice since 1999.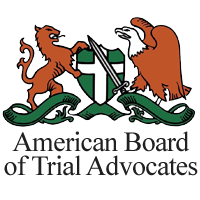 Publications
Podcast Guest, "Episode 167 - Sean Healy, Liability Attorney," The Geoholics, March 29, 2023
Contributor to "The Lawyer's Guide to Lead Paint, Asbestos and Chinese Drywall," published by the American Bar Association (2010), written by Alan Kaminsky and Karen Campbell of Lewis Brisbois
"Who Wants to Marry a Tort? Pre-Marital Negligence and Post-Marriage Claims," Author, Arizona Association of Defense Counsel Newsletter (Spring 2002)
Professional Presentations
"Tips for Ethically Protecting Your Clients, Yourself and the Rights of Third Parties," Co-presenter, January 6, 2020

Rule 30(b)(6) Depositions and Rule 68 Offers of Judgment, Sean Healy, Lewis Brisbois Bisgaard & Smith LLP (1.0 hours CLE), Speaker and Presenter, May 2, 2019
"Let's Be Blunt: The 'Growth' of Marijuana Legislation and its Impact on Insureds," 2018 Argo Panel Meeting, Speaker and Presenter, May 18, 2018
LBBS presentation: Effective Strategies for Reducing Plaintiffs' Economic Damage Claims, June 2017
Premises Liability - Overview of subject for institutional client, Speaker, May 23, 2017
"Fiduciary Duties & Financial Lines: The Origin, Evolution and Future," PLUS, Speaker, May 11, 2017
Products Liability Presentation for large insurer, Speaker, Dec. 5 (Part I) and 16 (Part II), 2016
"Risk Transfer Opportunities, Indemnity and Tender of Defense Issues in Arizona," Seminar for insurer, Speaker, Aug. 2016
Half-day Presentation on Casualty, Fair Claims Handling, and Class Action/D&O/Securities for large insurer, Organizer and Speaker, Aug. 2016
Professional Liability and Directors and Officers Case Law Update - Presentation for large insurer, brokers and riskmanagers - Speaker, May 2016
"Morris, Damron and Cumis - What You Need to Know," Seminar for large insurer, Speaker, Mar. 2015
Current Employment Law Issues Presentation for large insurer, Organizer, 2015
"Pre-litigation Settlement Strategies," Seminar for Institutional Client – Speaker, Oct. 2014
"Products Liability Claims Handling (Parts I & II)," Seminar for Institutional Client – Speaker, Jul. & Oct. 2014
"Ethics for Adjusters," Third Annual Arizona Continuing Education Seminar for Claims Analysts - Speaker, May 2013, 2011
"Liability 101," Seminar for risk managers from several of Arizona's top 100 largest companies - Speaker, Jan. 2013
"The Role of the Director: Defining Their Responsibilities," National Telecommunications Cooperative Association (NTCA) event attended by telecom industry directors, officers and counsel - Speaker, Nov. 2012
Products Liability Webinar to large institutional client - Speaker, Apr. 2012
"Summary of Arizona Law on Directors and Officers," Corporate Counsel Division, Maricopa County Bar Association - Speaker, October 2009
Mock Trial Presentation to the National Association of Independent Insurance Adjusters (NAIIA) - Author & Presenter, 2009
"Insurance Claims Jeopardy," - Speaker to Institutional Client and Attorneys, 2009, 2007, 2005
National Business Institute, Institute for Paralegal Education, " Analyzing Records for the Arizona Paralegal" - Ethical Considerations - Speaker, 2004
Lorman Education Services, Premises Liability in Arizona - Speaker, 2002
"Subrogation in Arizona" - Speaker to Institutional Client, 2002
Lorman Education Services, Products Liability in Arizona - Speaker, 2002
"The Truth, The Whole Truth, and Nothing But the Truth...Ethical Issues for Testimony That Straddles the Line of Truthfulness" - Presenter, 2000
"Access to the Media...Can You Try Your Case Before Trial?" - Ethical Issues In Cases Receiving Media Coverage - Discussion Moderator,1999
Admissions
State Bar Admissions
State Supreme Courts
State Appellate Courts
United States District Courts

United States District Court for the District of Arizona

United States Courts of Appeals

United States Court of Appeals for the Ninth Circuit
Admissions
Arizona State and Federal Court
Associations
Professional Liability Underwriting Society (PLUS), Member, 2017
American Board of Trial Advocates (ABOTA), Admitted 2015
Arizona Association of Defense Counsel, Member of Board of Directors, 2004-2007
Arizona Association of Defense Counsel, Young Lawyers Division, President, 2003-2004, Board Member, 2002-2003
Association of Trial Lawyers of America, Member, 1998-2003
Arizona Trial Lawyers Association, Member, 1998-2001
Inn of Court, 1999-2001
Lawyers for Literacy, 1998-2000
Awards & Honors
Southwest SuperLawyers - Listed in 2015-2018
Education
University of San Diego School of Law
Juris Doctor, 1997
Colgate University
Bachelor of Arts, 1993
University of Arizona
Honors Program, 1989-1990

Back to Attorneys