Alan Kaminsky
Partner
Alan.Kaminsky@lewisbrisbois.com
Alan Kaminsky is the Administrative Partner in the New York office of Lewis Brisbois, a co-chair of the firm's national General Liability Practice, and for the past 12 years has been a member of the firm's Management Committee. He is a premier trial lawyer whose aggressive approach to discovery, deposition, and cross-examination has made him one of New York's most successful defense attorneys.
Mr. Kaminsky has tried more than 300 cases in his more than three decades of practice. The majority of these cases have involved catastrophic occurrences including wrongful death, sexual assault, traumatic brain injury, and other high exposure matters. Alan has achieved extraordinary results leading to recognition by his peers as one of the top trial attorneys in the Tri-State Area and has tried and consulted on cases across the nation. He has served as national coordinating counsel on high profile cases ranging from the Columbine High School shootings to the Aurora, Colorado theater shootings. Alan consulted for Live Nation in the mass shootings at the Las Vegas concert venue and on behalf of Wal-Mart for the mass shootings in El Paso, Texas. He has extensive experience defending landowners against claims brought by victims of crimes that have occurred on their properties.
Alan obtained a defense verdict in the longest trial in New York County, a nine-month trial wherein he successfully represented the construction manager in a double fatality case involving a collapsing crane. He also obtained a defense verdict in the oldest case in the New York court system involving a multiple fatality bus accident. He regularly defends his clients against claims involving the New York State Labor Law.
Alan's oldest son teaches special needs children. His daughter is an attorney in New York City, and his youngest son is a pitcher with the St. Louis Cardinals.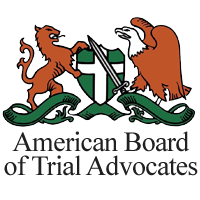 Primary Area(s) of Practice
General Liability
Construction
National Trial Practice
Associations
American Board of Trial Advocates (ABOTA)
New York State Trial Lawyers Association
American Bar Association
Bronx County Bar Association
Defense Research Institute
International Association of Defense Counsel
American Trial Lawyers Association
Awards & Honors
Named a New York Top Rated Lawyer by Martindale Hubbell, 2020
Best Lawyers in America, Alan has received this recognition for the last 21 years
Twice cited by National Law Journal for obtaining one of the Top Ten Defense Verdicts of the Year, and by the Jury Verdict Reporter for Defense Verdict of the Month
Obtained over 50 defense verdicts in personal injury matters with many cases presenting multi-million dollar exposure
Recognized by New York Magazine as one of the Top Personal Injury Trial Lawyers in New York for 20 consecutive years, 2000-present
Cited by New York Times as one of the top 5% of "Super Lawyers" in the New York Tri-State Area for 10 consecutive years, 2006-present
Consulted on dozens of prominent cases throughout the United States
AV-Rated for 12 consecutive years by Martindale-Hubbell for highest possible peer review ratings for ethical standards and ability
Professional Presentations
Guest Speaker at more than 100 programs, including national presentations by Defense Research Institute, American Society for Industrial Security, Mealy's, International Counsel of Shopping Centers, New York Bar Association, tourism boards, various national trade organizations, and real estate, insurance, and legal symposiums across the country.
Webinars and seminars. Alan has also been a guest speaker at dozens of programs presented to insurance carriers and other friends of the firm on topics ranging from defending catastrophic claims to handling excess exposure litigation.
Education
Hofstra University School of Law
Juris Doctor, 1983
New York University
Bachelor of Arts, 1980
Publications
"A Complete Guide to Lead Paint Litigation," published by American Bar Association
"A Complete Guide to Premises Security Litigation," published by American Bar Association (1st Edition; 2nd Edition; 3rd Edition)
Alan has published dozens of articles in legal journals throughout his career. Additional information is available upon request