Lewis Brisbois Promotes 35 Attorneys to Partnership
Los Angeles, Calif. (February 25, 2022) - Lewis Brisbois is pleased to announce the promotion of 35 of its associates to partner. With these promotions, Lewis Brisbois' total partnership comes to 988 across its 54 offices. Over half (54%) of this diverse class of newly promoted attorneys come from traditionally underrepresented populations, including women, underrepresented races and ethnicities, and LGBTQ people.
Los Angeles Managing Partner Jana I. Lubert expressed enthusiasm regarding the recent promotions, stating, "On behalf of all members of the Management Committee, I extend a heartfelt congratulations to this diverse group of exceptional attorneys. They have consistently delivered the highest level of service to our clients, while exhibiting extraordinary commitment to their colleagues at Lewis Brisbois."
Likewise, San Bernardino and Chief Diversity Partner Rima M. Badawiya expressed excitement about the diversity of the new partners, noting, "I am proud that the diversity of this group of new partners reflects the diversity that is present across Lewis Brisbois' nationwide network. As the promotion of these attorneys demonstrates, Lewis Brisbois remains dedicated to the values of diversity and inclusion as well as to advancing individuals based on their outstanding performance and achievements."
The new partners hail from 18 different offices across 12 states, practicing in a multitude of jurisdictions and legal specialties, demonstrating Lewis Brisbois' national presence and breadth of practice. The 12 women in this partnership class brings the total percentage of female partners at the firm to over 34%, which is above of the industry average as of 2021.
For more information on individual attorneys, go to www.lewisbrisbois.com/attorneys.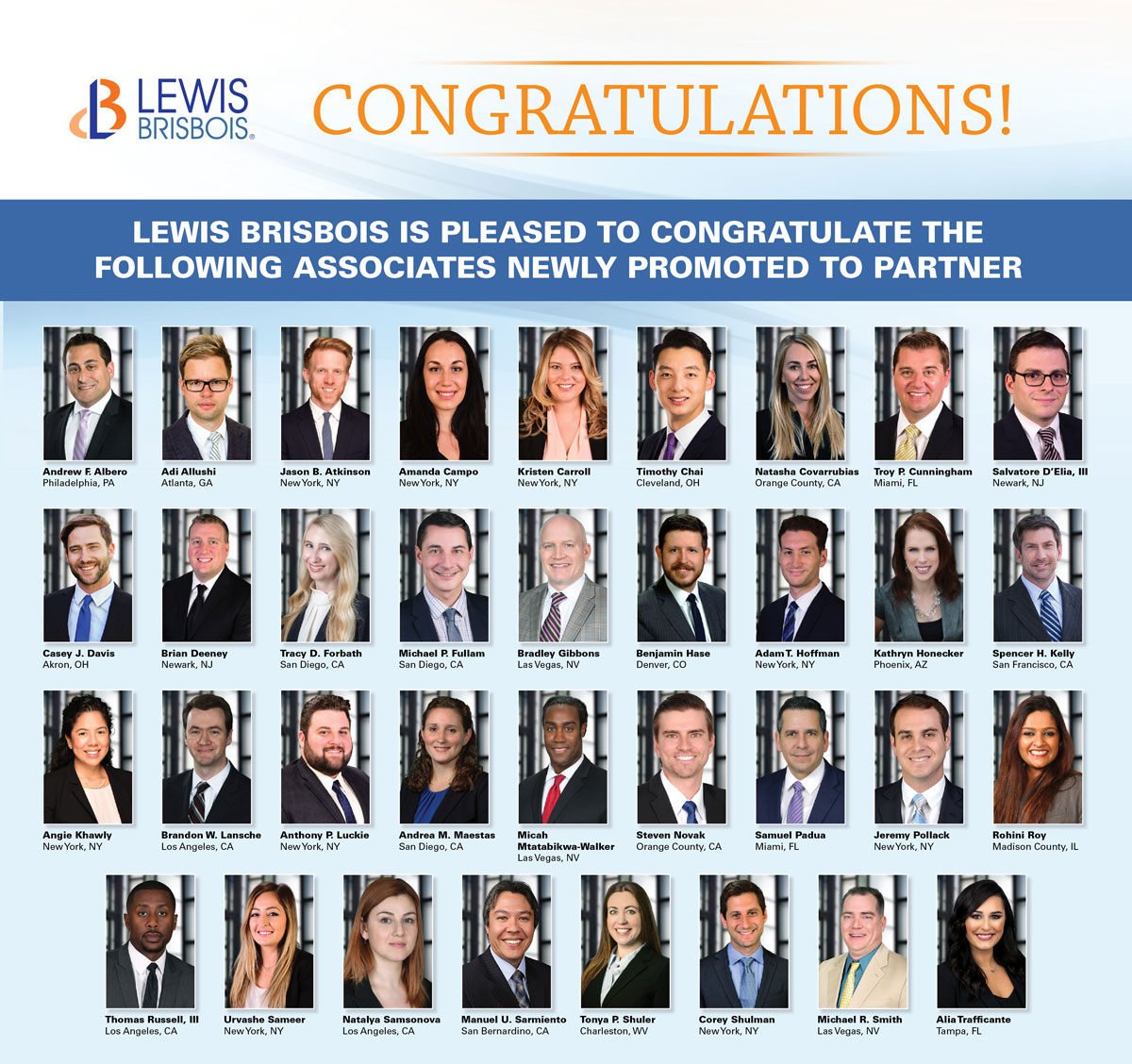 Related Attorneys
Partners

Rima Badawiya

Partner

San Bernardino, CA

909.386.3041

Rima.Badawiya@lewisbrisbois.com

Attorney Bio

Andrew Albero

Partner

Philadelphia, PA

215.253.6155

Andrew.Albero@lewisbrisbois.com

Attorney Bio

Adi Allushi

Partner

Atlanta, GA

404.991.2173

Adi.Allushi@lewisbrisbois.com

Attorney Bio

Amanda Campo

Partner

New York, NY

212.232.1341

Amanda.Campo@lewisbrisbois.com

Attorney Bio

Kristen Carroll

Partner

New York, NY

646.783.1721

Kristen.Carroll@lewisbrisbois.com

Attorney Bio

Timothy Chai

Partner

Cleveland, OH

216.586.8806

Timothy.Chai@lewisbrisbois.com

Attorney Bio

Natasha Covarrubias

Partner

Orange County, CA

714.668.5517

Natasha.Covarrubias@lewisbrisbois.com

Attorney Bio

Troy Cunningham

Partner

Miami, FL

New York, NY

786.299.5561

Troy.Cunningham@lewisbrisbois.com

Attorney Bio

Salvatore D'Elia III

Partner

Newark, NJ

973.856.8021

Salvatore.Delia@lewisbrisbois.com

Attorney Bio

Casey Davis

Partner

Akron, OH

Cleveland, OH

330.272.0063

Casey.Davis@lewisbrisbois.com

Attorney Bio

Brian Deeney

Partner

Newark, NJ

973.792.8726

Brian.Deeney@lewisbrisbois.com

Attorney Bio

Tracy Forbath

Partner

San Diego, CA

619.699.4964

Tracy.Forbath@lewisbrisbois.com

Attorney Bio

Michael Fullam

Partner

San Diego, CA

619.699.4946

Michael.Fullam@lewisbrisbois.com

Attorney Bio

Bradley Gibbons

Partner

Las Vegas, NV

702.693.4331

Bradley.Gibbons@lewisbrisbois.com

Attorney Bio

Benjamin Hase

Partner

Denver, CO

303.562.9760

Benjamin.Hase@LewisBrisbois.com

Attorney Bio

Adam Hoffman

Partner

New York, NY

Newark, NJ

646.783.1737

Adam.Hoffman@lewisbrisbois.com

Attorney Bio

Kathryn Honecker

Partner

Phoenix, AZ

602.385.7864

Kathryn.Honecker@lewisbrisbois.com

Attorney Bio

Spencer Kelly

Partner

San Francisco, CA

415.438.5928

Spencer.Kelly@lewisbrisbois.com

Attorney Bio

Angie Khawly

Partner

New York, NY

646.783.0930

Angie.Khawly@lewisbrisbois.com

Attorney Bio

Brandon Lansche

Partner

Los Angeles, CA

213.281.5262

Brandon.Lansche@lewisbrisbois.com

Attorney Bio

Anthony Luckie

Partner

New York, NY

212.232.1300

Anthony.Luckie@lewisbrisbois.com

Attorney Bio

Andrea Maestas

Partner

San Diego, CA

619.699.4918

Andrea.Maestas@lewisbrisbois.com

Attorney Bio

Micah Mtatabikwa-Walker

Partner

Las Vegas, NV

702.693.4308

Micah.Walker@lewisbrisbois.com

Attorney Bio

Steven Novak

Partner

Orange County, CA

Los Angeles, CA

213.580.7948

Steven.Novak@lewisbrisbois.com

Attorney Bio

Samuel Padua

Partner

Miami, FL

786.725.3252

Samuel.Padua@lewisbrisbois.com

Attorney Bio

Jeremy Pollack

Partner

New York, NY

646.783.0894

Jeremy.Pollack@lewisbrisbois.com

Attorney Bio

Rohini Roy

Partner

Madison County, IL

618.307.7624

Rohini.Roy@lewisbrisbois.com

Attorney Bio

Thomas Russell, III

Partner

Los Angeles, CA

213.599.7776

Thomas.Russell@lewisbrisbois.com

Attorney Bio

Urvashe Sameer

Partner

New York, NY

646.783.0927

Urvashe.Sameer@lewisbrisbois.com

Attorney Bio

Natalya Samsonova

Partner

Los Angeles, CA

213.281.5210

Natalya.Samsonova@lewisbrisbois.com

Attorney Bio

Manuel Sarmiento

Partner

San Bernardino, CA

909.381.7178

Manuel.Sarmiento@lewisbrisbois.com

Attorney Bio

Tonya Shuler

Partner

Charleston, WV

304.553.0135

Tonya.Shuler@lewisbrisbois.com

Attorney Bio

Corey Shulman

Partner

New York, NY

646.783.1720

Corey.Shulman@lewisbrisbois.com

Attorney Bio

Michael Smith

Partner

Las Vegas, NV

702.830.9017

Michael.R.Smith@lewisbrisbois.com

Attorney Bio

Alia Trafficante

Partner

Tampa, FL

813.739.1924

Alia.Trafficante@lewisbrisbois.com

Attorney Bio