Lewis Brisbois Promotes 29 Associates to Partner
Los Angeles, Calif. (March 6, 2023) - Lewis Brisbois is pleased to announce the promotion of 29 of its associates to partner. With these promotions, Lewis Brisbois' total partnership comes to 1,048 across its 55 offices. Nearly three-fifths (59%) of this diverse class of newly promoted attorneys come from traditionally underrepresented populations, including women, underrepresented races and ethnicities, and LGBTQ people.
Los Angeles Managing Partner and Management Committee Member Jana I. Lubert said, "On behalf of the Management Committee, I extend our best wishes to these new partners on their well-deserved promotions. Each attorney in this outstanding group has demonstrated unwavering commitment to both clients and colleagues alike. We are grateful for their dedication and look forward to their future contributions as they continue on their professional paths at the firm."
Additionally, Chief Diversity Partner Rima M. Badawiya commented on the diversity of this new partner class, stating, "Once again, the exceptional attorneys who have been elevated to partner reflect the diversity that exists throughout Lewis Brisbois. I am proud of not only this group's diversity, but also the firm's commitment to elevating individuals based upon their hard work and contributions. These important values allow us to provide the highest level of service to clients while maintaining an inclusive environment that supports all attorneys."
The new partners hail from 15 different offices across 11 states, practicing in a multitude of jurisdictions and legal specialties, demonstrating Lewis Brisbois' national presence and breadth of practice. The 13 women in this partnership class brings the total percentage of female partners at the firm to over 34%, which is above of the industry average as of 2022.
For more information on individual attorneys, go to www.lewisbrisbois.com/attorneys.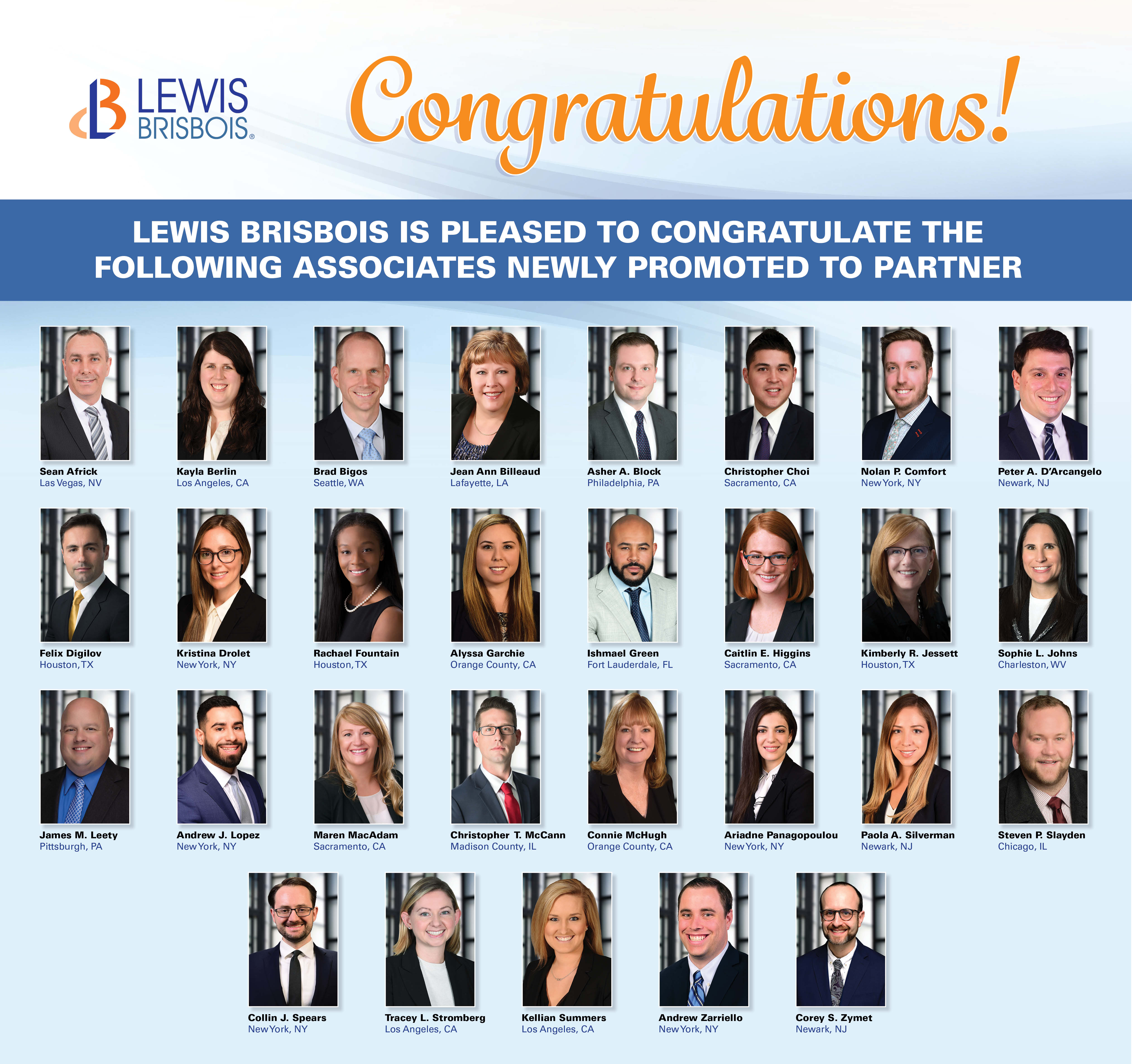 Related Attorneys
Partners

Rima Badawiya

Partner

San Bernardino, CA

909.386.3041

Rima.Badawiya@lewisbrisbois.com

Attorney Bio

Sean Africk

Partner

Las Vegas, NV

702.583.6020

Sean.Africk@lewisbrisbois.com

Attorney Bio

Kayla Berlin

Partner

Los Angeles, CA

213.580.3997

Kayla.Berlin@lewisbrisbois.com

Attorney Bio

Jean Ann Billeaud

Partner

Lafayette, LA

337.205.4736

Jean.Billeaud@lewisbrisbois.com

Attorney Bio

Asher Block

Partner

Philadelphia, PA

215.977.4066

Asher.Block@lewisbrisbois.com

Attorney Bio

Christopher Choi

Partner

Sacramento, CA

916.646.8223

Christopher.Choi@lewisbrisbois.com

Attorney Bio

Peter D'Arcangelo

Partner

Newark, NJ

973.577.6253

Peter.D'Arcangelo@lewisbrisbois.com

Attorney Bio

Felix Digilov

Partner

Houston, TX

346.241.4962

Felix.Digilov@lewisbrisbois.com

Attorney Bio

Kristina Drolet

Partner

New York, NY

646.666.7690

Kristina.Drolet@lewisbrisbois.com

Attorney Bio

Rachael Fountain

Partner

Houston, TX

346.241.4967

Rachael.Fountain@lewisbrisbois.com

Attorney Bio

Alyssa Garchie

Partner

Orange County, CA

714.668.5591

Alyssa.Garchie@lewisbrisbois.com

Attorney Bio

Ishmael Green

Partner

Fort Lauderdale, FL

Miami, FL

954.678.4073

Ishmael.Green@lewisbrisbois.com

Attorney Bio

Caitlin Higgins

Partner

Sacramento, CA

916.646.8215

Caitlin.Higgins@lewisbrisbois.com

Attorney Bio

Sophie Johns

Partner

Charleston, WV

681.245.8893

Sophie.Johns@lewisbrisbois.com

Attorney Bio

James Leety

Partner

Pittsburgh, PA

412.250.7303

James.Leety@lewisbrisbois.com

Attorney Bio

Andrew Lopez

Partner

New York, NY

646.783.1742

Andrew.Lopez@lewisbrisbois.com

Attorney Bio

Maren MacAdam

Partner

Sacramento, CA

916.646.8218

Maren.MacAdam@lewisbrisbois.com

Attorney Bio

Christopher McCann

Partner

Madison County, IL

618.307.7626

Christopher.McCann@lewisbrisbois.com

Attorney Bio

Connie McHugh

Partner

Orange County, CA

714.668.5546

Connie.McHugh@lewisbrisbois.com

Attorney Bio

Ariadne Panagopoulou

Partner

New York, NY

212.232.1325

Ariadne.Panagopoulou@lewisbrisbois.com

Attorney Bio

Paola Silverman

Partner

Newark, NJ

973.577.6263

Paola.Silverman@lewisbrisbois.com

Attorney Bio

Steven Slayden

Partner

Chicago, IL

312.463.3421

Steven.Slayden@lewisbrisbois.com

Attorney Bio

Collin Spears

Partner

New York, NY

212.232.1303

Collin.Spears@lewisbrisbois.com

Attorney Bio

Tracey Stromberg

Partner

Los Angeles, CA

213.358.6035

Tracey.Stromberg@lewisbrisbois.com

Attorney Bio

Andrew Zarriello

Partner

New York, NY

646.783.1740

Andrew.Zarriello@lewisbrisbois.com

Attorney Bio

Corey Zymet

Partner

Newark, NJ

973.792.8750

Corey.Zymet@lewisbrisbois.com

Attorney Bio