Lewis Brisbois Celebrates Asian American Pacific Islander Heritage Month
(May 2021) - As Asian American and Pacific Islander (AAPI) Heritage Month begins, Lewis Brisbois looks forward to celebrating the culture and contributions of Asian Americans and Pacific Islander Americans who have enriched our country's history and who are integral to its success. Throughout the month of May, our Asian American and Pacific Islander American colleagues across the firm will be sharing their diverse experiences and perspectives in a series of spotlight posts.
Our first contribution to this series comes from San Diego Partner Peter L. Garchie, who discusses how the cultural norms of his parents, who immigrated from the Philippines, allowed him to achieve professional success and to pass along important values to his children and grandchildren.
Peter joined Lewis Brisbois in 1984 and currently serves as vice-chair of its Toxic Tort & Environmental Litigation Practice. Throughout his career, he has represented national and international companies across a range of industries in state and federal courts, in national multi-district coordinated litigation, and before state regulatory agencies. A member of the American Board of Trial Advocates (ABOTA), Peter has tried over 50 jury cases to verdict in matters involving professional liability, products liability, environmental/toxic torts, and commercial disputes.
Learn more about Peter's professional experience here.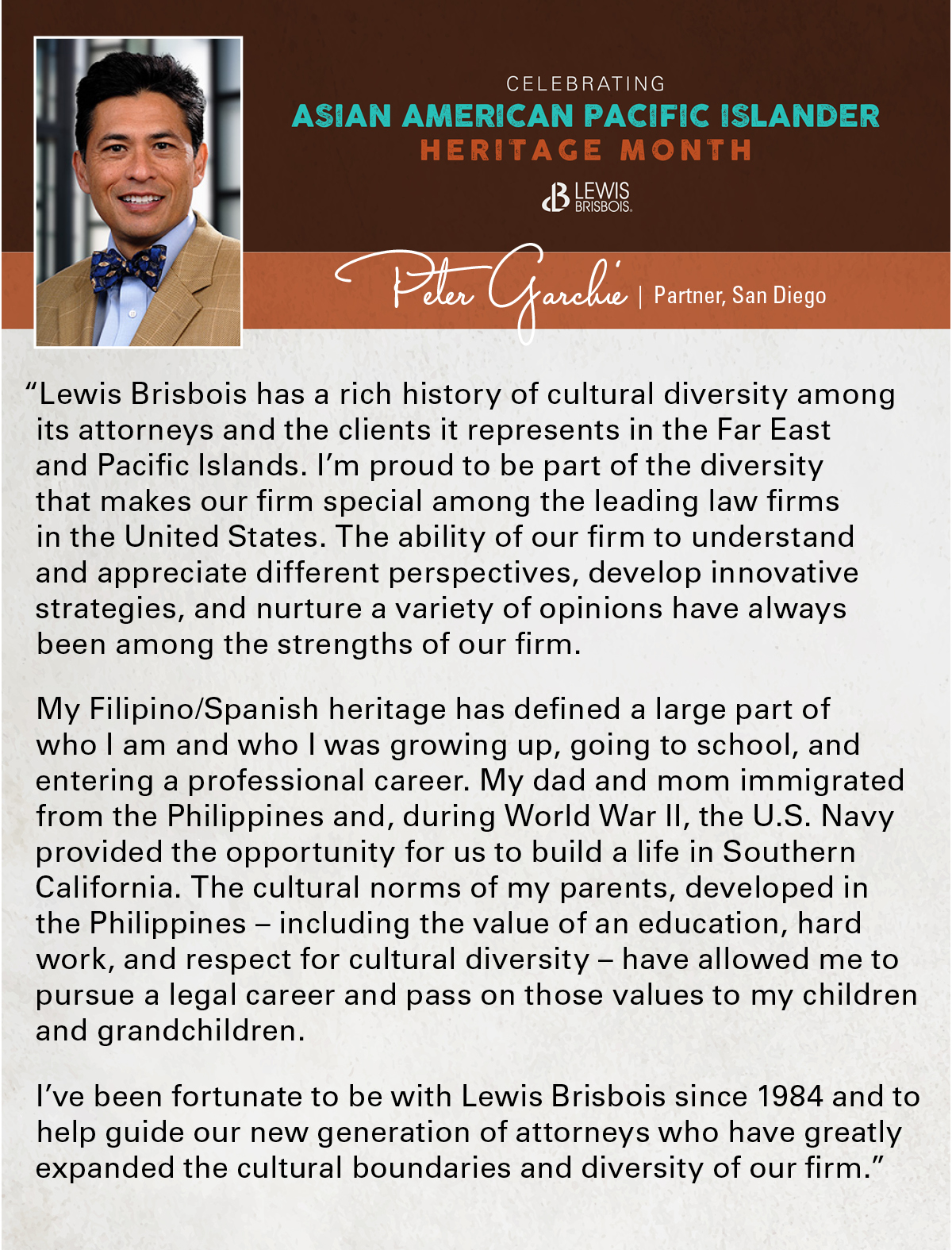 As we continue our AAPI Heritage Month spotlight series, today we hear from New York Associate Poonam Sethi, who points out the importance of celebrating AAPI heritage, particularly in light of the recent increase in violence against Asian Americans. She describes how her own experiences in the legal profession, which have included being mistaken for a court reporter or translator, have taught her the importance of representation.
Poonam is a member of the firm's General Liability Practice and focuses on New York State labor law, construction litigation, and general liability matters. Outside of her practice, Poonam is a member of the South Asian Bar Association of New York and previously served as Secretary.
Learn more about Poonam's professional experience here.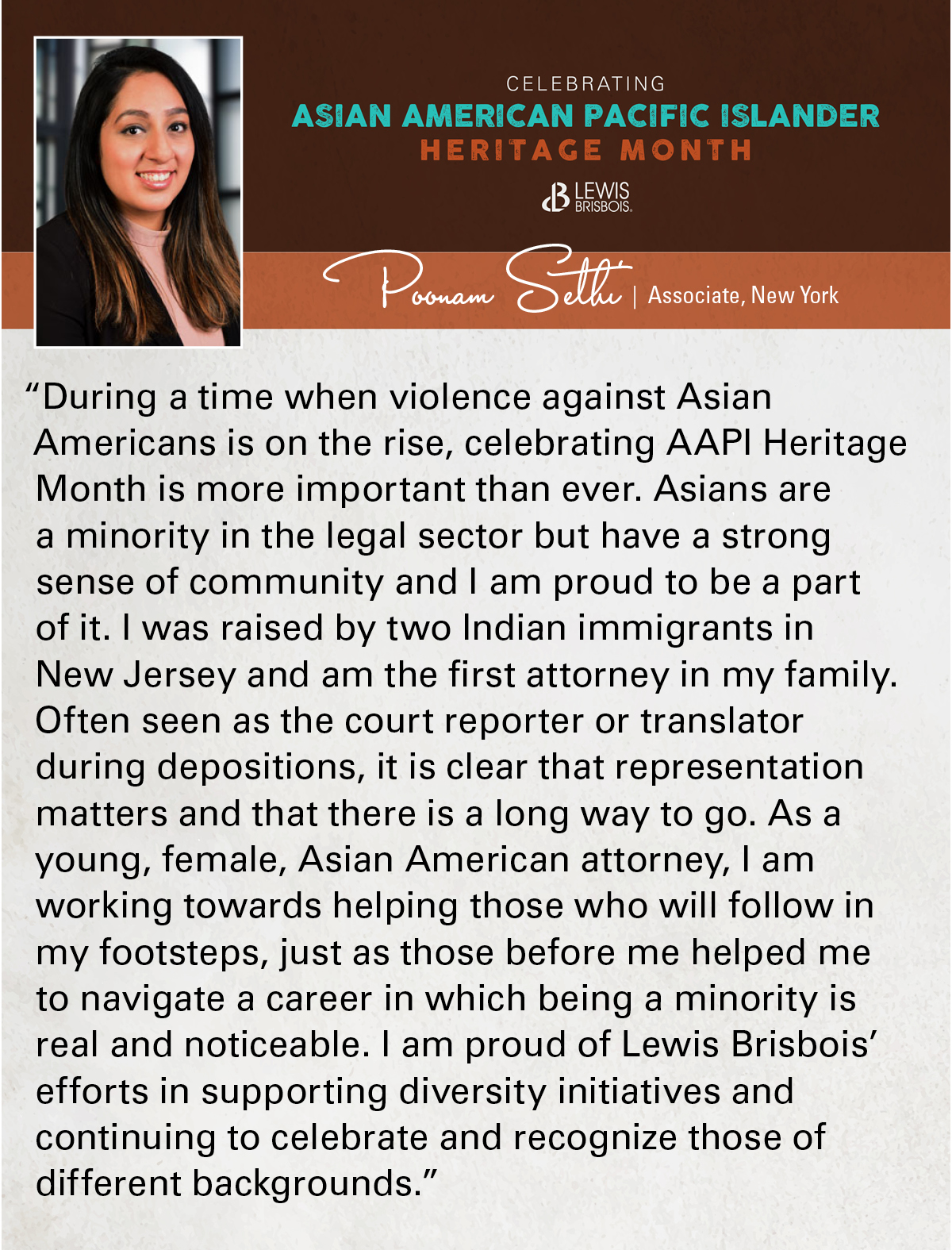 Today's contribution to our AAPI Heritage Month spotlight series comes from Los Angeles Partner Stephen Hiura, who reflects upon how his parents, who were both placed in internment camps, never allowed their experiences to negatively impact their views of others or society. Stephen hopes that, like his parents, every human will remain focused on respecting and supporting each other – values that he incorporates into his role as a husband, father, brother, friend, and lawyer.
Stephen is a member of Lewis Brisbois' General Liability Practice, representing individuals, corporations, non-profit organizations, public entities, and financial institutions in a range of litigation matters. Stephen has handled several successful jury trials and is an active member of the Japanese American Bar Association.
Learn more about his professional experience here.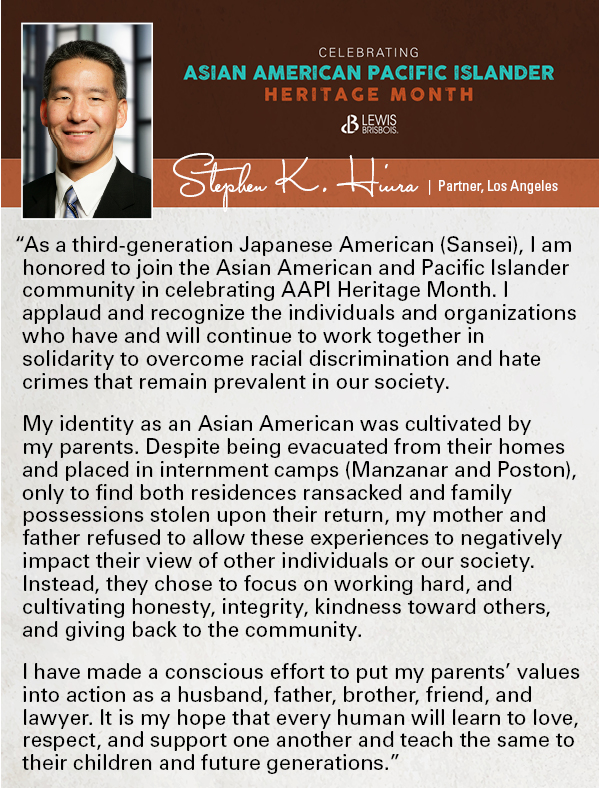 Related Attorneys