Janeen Thomas Installed as State Director of WWBA, Receives First Ever President's Award
New York, N.Y. (June 24, 2021) - On June 9, 2021, New York Partner Janeen M. Thomas was installed as a State Director of the Westchester Women's Bar Association (WWBA) for the 2021-2022 term. In this role, Ms. Thomas will represent the WWBA at statewide meetings of the Women's Bar Association of the State of New York (WBASNY).
During the installation ceremony, Ms. Thomas was awarded with the association's first ever President's Award by WWBA Outgoing President Judge Lisa Margaret Smith of the Southern District of New York (retired), for her service as Co-Chair of the WWBA Diversity & Inclusion Committee during the 2020-2021 term. During the award presentation, Ms. Thomas was recognized for organizing three programs, including:
"A Panel Discussion on Police Reform: New York's Executive Order for Necessary Change," which featured Dr. Jim Bostic, Minister, Author and Executive Director, Nepperhan Community Center; Jason Clark, Esq., Deputy, New York State Attorney General's Office and Past-President, Metropolitan Black Bar Association; Kitley S. Covill, Esq., Westchester County Legislator, District 2, Prof. Randolph McLaughlin, Esq., Of Counsel, Newman Ferrara LLP and Professor, Pace University Law School and Maria L. Imperial, Esq., CEO, YMCA White Plans & Central Westchester;
"The Impact of COVID-19 and George Floyd on the Insurance Industry," which featured David Priebe, Chairman of Guy Carpenter & Company LLC; Vivian Wesson, Chief Intellectual Property Counsel, Marsh & McLennan; and Ms. Thomas, who moderated the Q&A for the program; and
"Diversity & Inclusion in the Legal Profession: Perspectives from the Bench and the Bar," which featured The Honorable Cheryl Chambers, Justice, Appellate Division, Second Judicial Department; Mirna Martinez-Santiago, President and CEO, Girls Rule the Law, Inc. and Co-Chair, NYSBA Committee on Diversity and Inclusion; and WWBA Diversity and Inclusion Committee Co-Chairs Jackie Hattar, Partner at Wilson Elser and Stephanie Melowsky, Vice President, PCSB Bank with Ms. Thomas serving as moderator.
Ms. Thomas was also recognized for launching the WWBA's Career Transition Task Force, whose mission is to facilitate job opportunities for those gravely impacted by the pandemic.
Ms. Thomas noted that she was "deeply moved, humbled, and honored by the unexpected award recognition."
Ms. Thomas is a member of Lewis Brisbois' Insurance Law Practice, and has 20 years of experience as a litigator. In her complex diverse insurance and litigation practice, Ms. Thomas deals daily with high exposure events and litigation stemming from such events.
Please join us in congratulating Ms. Thomas on these achievements. Learn more about the WWBA here.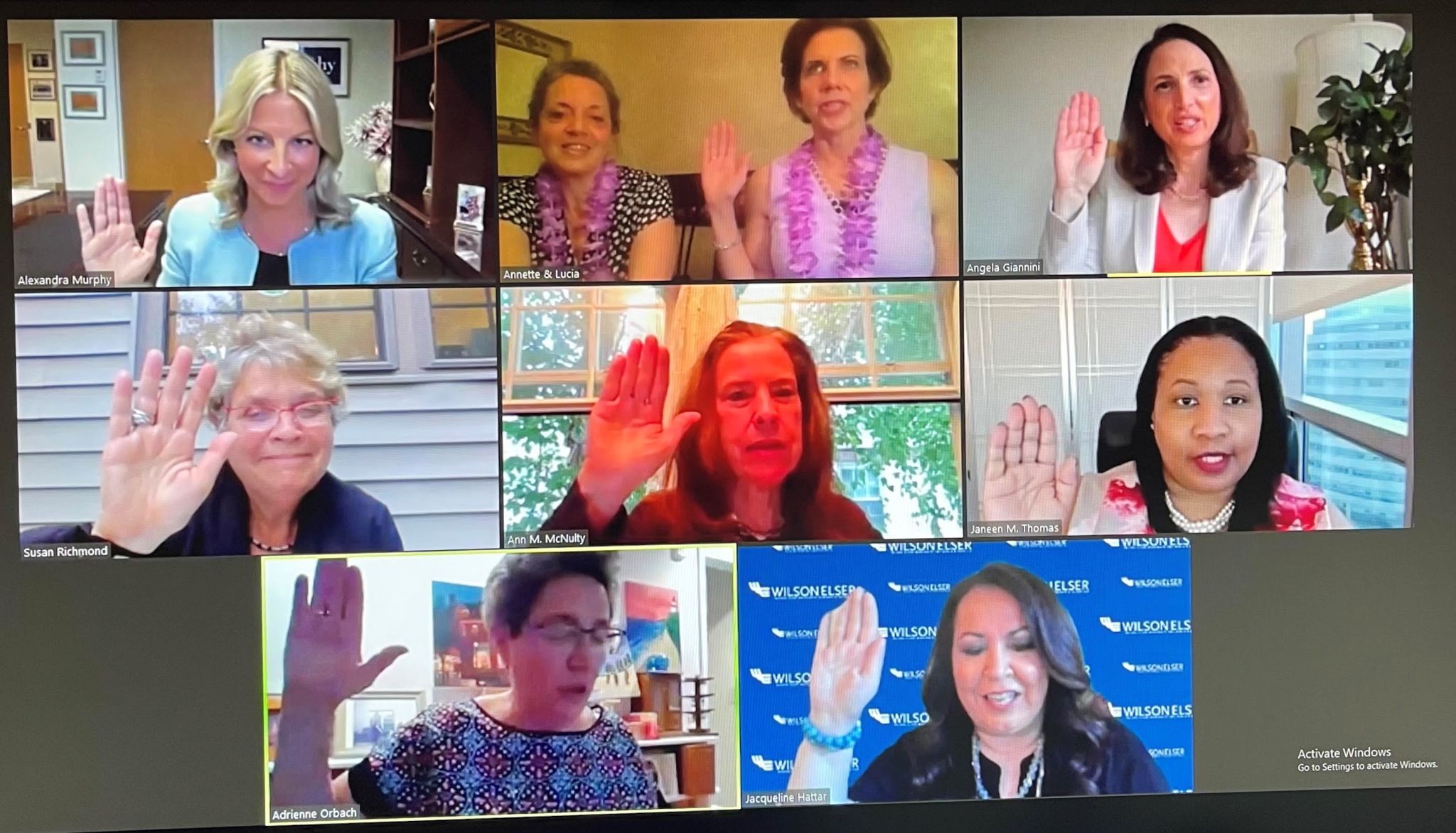 Ms. Thomas (center R) is installed as State Director of the WWBA.
See more photos from the ceremony on Ms. Thomas' LinkedIn.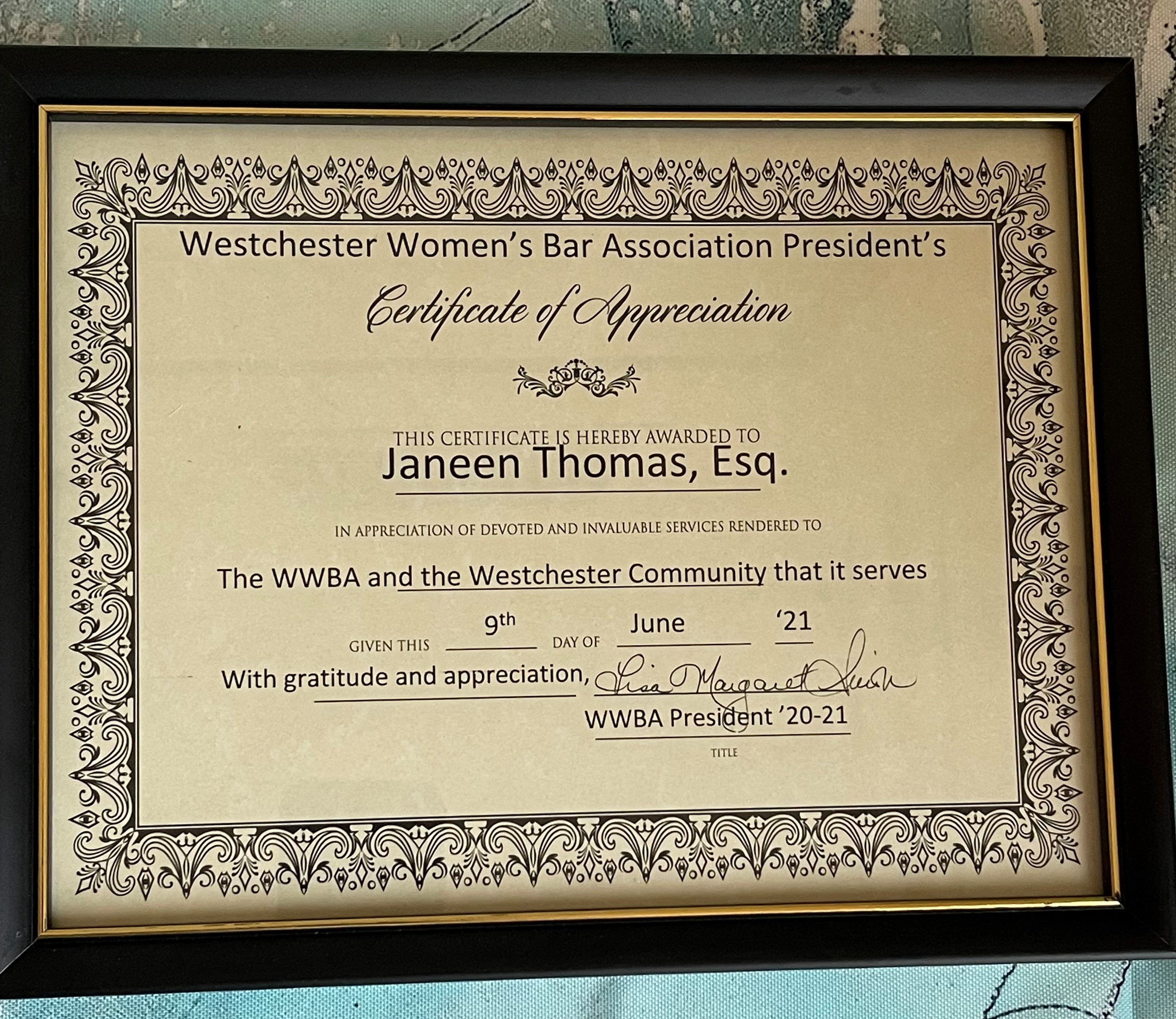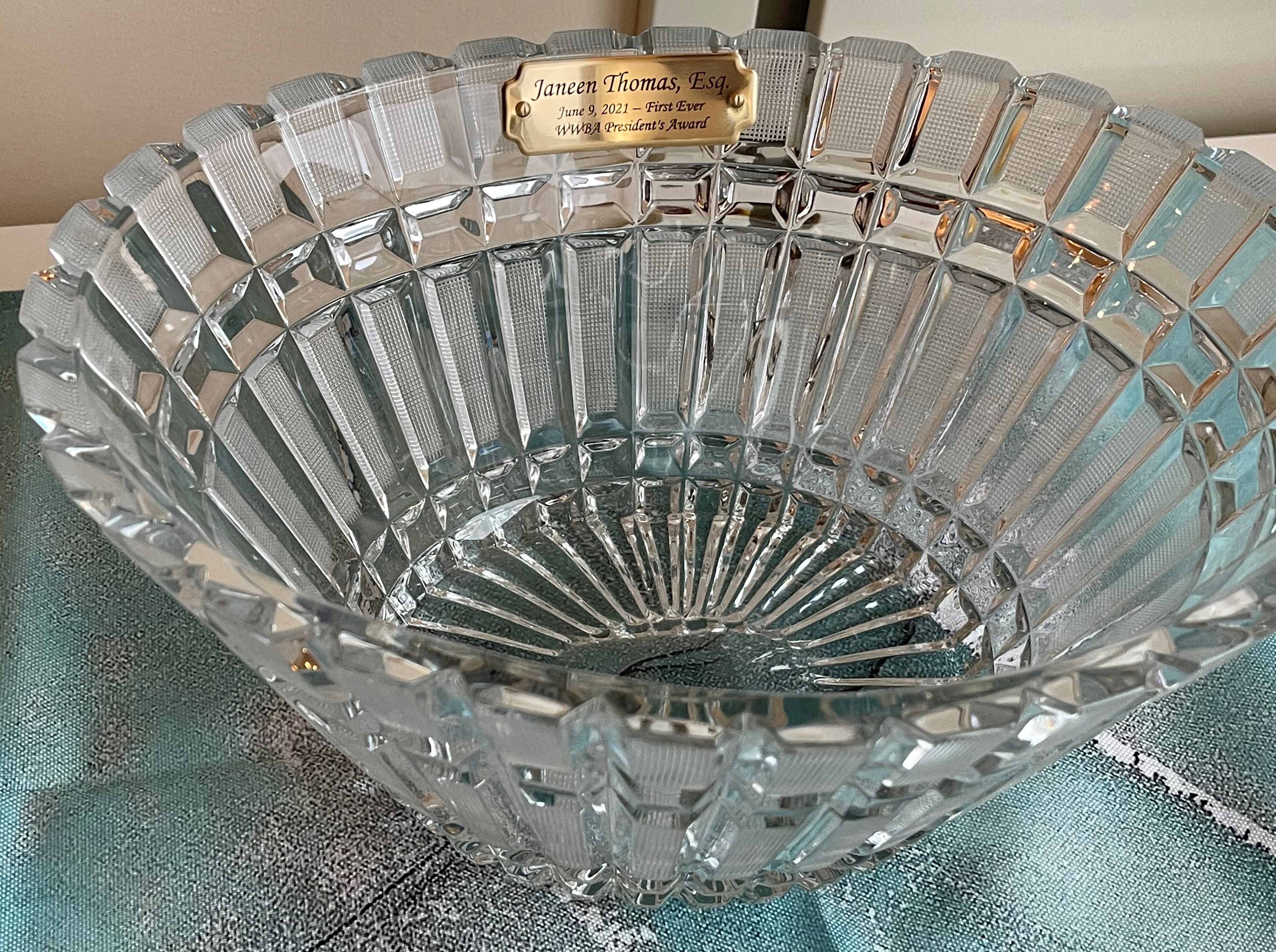 Ms. Thomas' Certification of Appreciation and first ever WWBA President's Award.
Related Attorneys