Eric Kizirian Receives Matthew S. Rae, Jr. Outstanding Section Leader Award at LACBA Annual Installation Dinner
Los Angeles, Calif. (June 24, 2022) – Los Angeles Partner Eric Y. Kizirian received the Matthew S. Rae, Jr. Outstanding Section Leader Award at the Los Angeles County Bar Association (LACBA) Installation & Awards Dinner, hosted at the Westin Bonaventure Hotel on June 23. The award recognizes the outstanding service and contributions provided by one of LACBA's 28 section chairs.
Mr. Kizirian was honored for his leadership as chair of the Litigation Section, which is LACBA's largest section. He was joined by a group of Lewis Brisbois partners at the dinner, which installed Ann Park as the next President of LACBA, and featured guest speaker Rob Bonata, Attorney General of the State of California.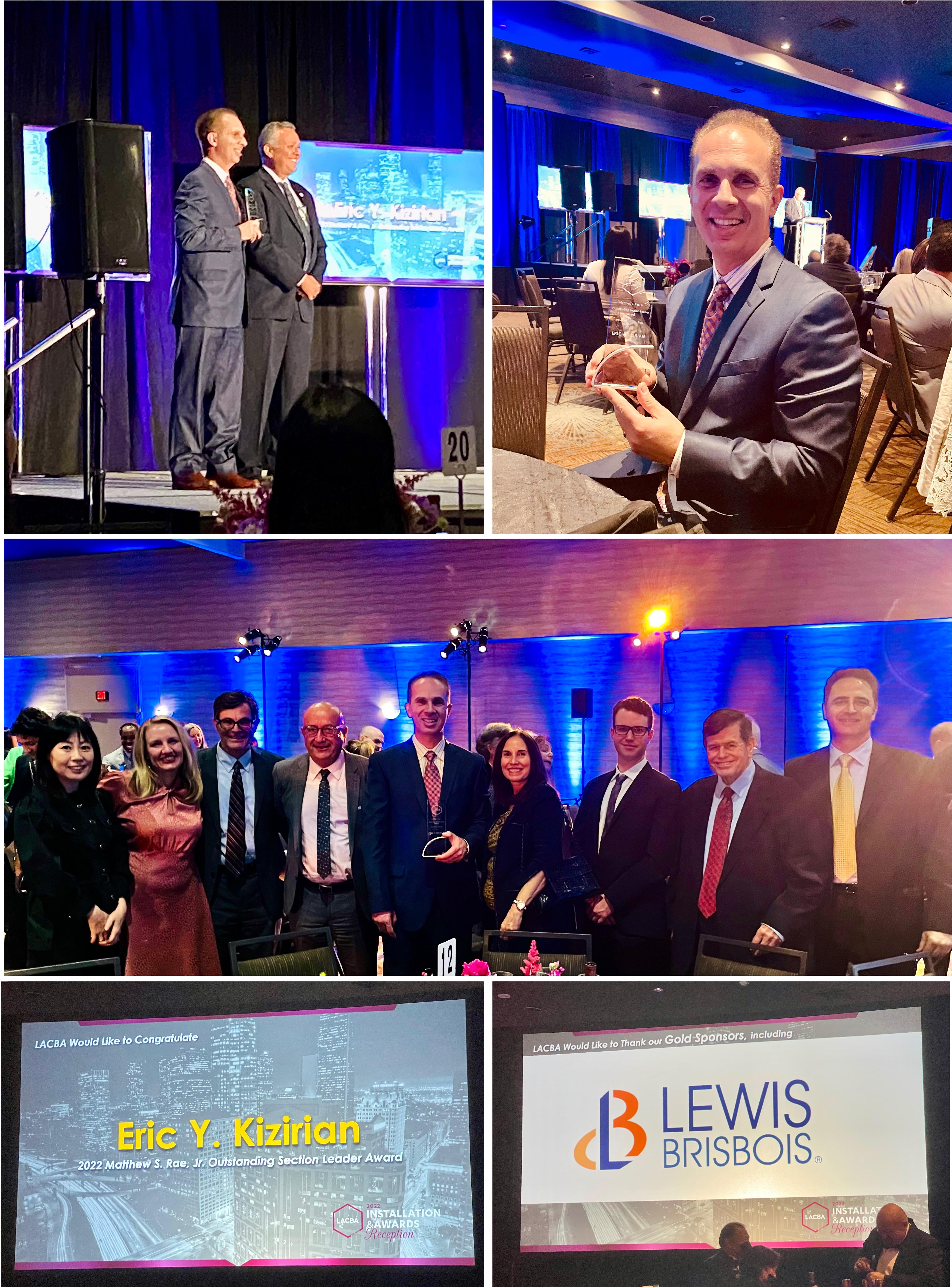 "I am humbled by this award and grateful for the opportunity to chair of LACBA's litigation section in the 2021-2022 year," said Mr. Kizirian on the award. "LACBA's litigation section has had a long tradition of promoting civility in the legal profession, expanding diversity and inclusion, working to secure adequate court funding, protecting the independence of the judiciary, and providing member education through programming. As I transition to the role of immediate past-chair, I am honored that LACBA entrusted me to lead the diverse and incredibly capable group of judges and attorneys who serve on the Litigation Section's Executive Committee as we worked to tackle the daily challenges that affect both the courts and practitioners alike during this pandemic."
Mr. Kizirian served as Chair LACBA's Litigation Section (2021-2022), and emceed several events by the organization, including the Federal Court Symposium and the Litigation Section's Bench Meets Bar Luncheon. Lewis Brisbois was a proud Gold sponsor of the Installation & Awards Dinner.
Mr. Kizirian is co-chair of the Class Action & Mass Tort and Consumer Warranty Practices, and vice-chair of the Lithium-Ion Battery Practice. He specializes in defending class actions and complex litigation across the United States. Mr. Kizirian has litigated class action issues in the United States Supreme Court, in federal and state appellate courts, and various district and state courts across the country.
Please join us in congratulating Ms. Kizirian on this award. Learn more about the LACBA Installation & Awards Dinner here.
Related Attorneys