Candis Jones Installed as President of the Gate City Bar Association
Atlanta, Ga. (January 20, 2021) - Atlanta Partner Candis R. Jones was recently installed as the President of Atlanta's Gate City Bar Association during a virtual ceremony on January 19. In her new position, Ms. Jones will lead over 300 minority lawyers, judges, and law students in advancing the legal profession and serving the Atlanta community.
After being given the oath of office by the Honorable Harold D. Melton, Chief Justice of the Supreme Court of Georgia, Ms. Jones delivered her inaugural address. She stated, in part, "A great lawyer is not only one that can prepare a winning case or argue a slam dunk motion, but one that gives their time outside of the office to help advance the legal profession and give back to the Atlanta and legal community."
During the virtual ceremony, Atlanta Associates Precious Johnson and Racquel V. McGee were also sworn in as members of the organization's executive board.
Established in 1948, the Gate City Bar Association is the oldest African-American bar association in the State of Georgia. Its mission for over 70 years has been to advance the legal profession, serve local communities, and promote social justice.
Ms. Jones is a member of Lewis Brisbois' General Liability Practice. Since 2011, her practice has focused on insurance defense, premises liability, personal injury, and medical malpractice. Her clients include several Fortune 500 companies, numerous insurance carriers, and a major metropolitan transit authority. In addition to assuming her new role with the Gate City Bar Association, Ms. Jones also serves as a member of the Georgia Defense Lawyers Association and the Georgia Association of Black Women Attorneys.
Learn more about the Gate City Bar Association and read a message from Ms. Jones regarding the organization's goals for 2021 here.
Please join us in congratulating Ms. Jones on this achievement.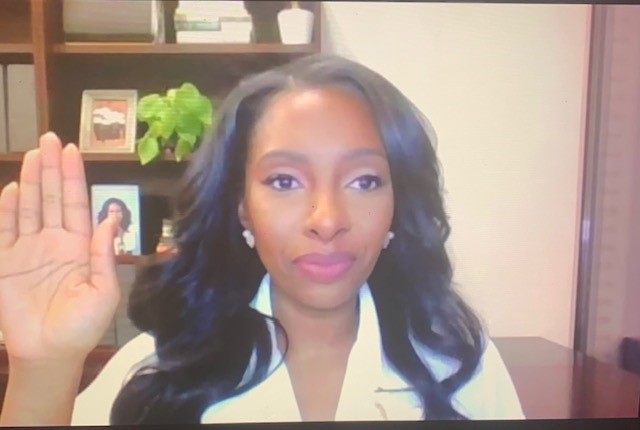 Ms. Jones being sworn in during a virtual ceremony on January 19.
Related Attorneys