State of the (State) Data Breach Laws: 2017 Legislative Update, Part III
Posted on: October 24, 2017
Utah, Virginia, and Washington
By: Bryan M. Thompson and Sean B. Hoar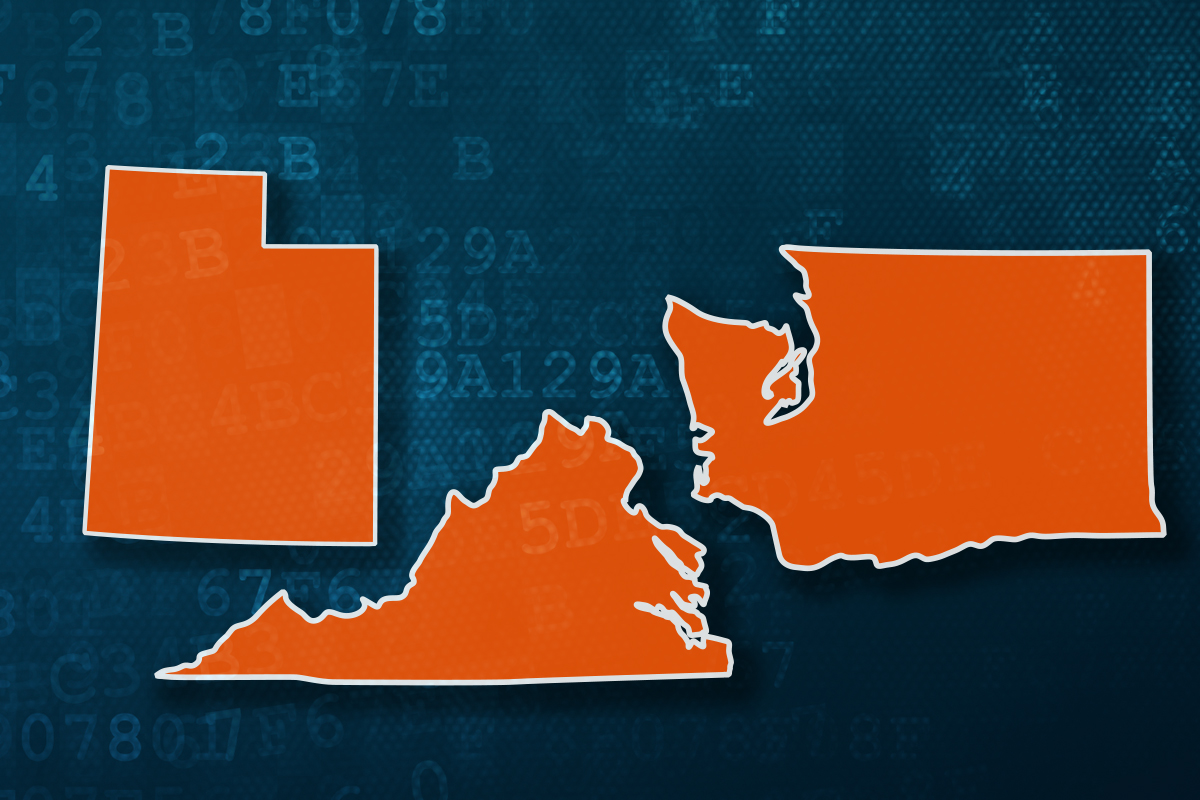 With 2017 nearing its end, the legislative activity in most state capitals has wound down and the majority of legislatures have ended their 2017 sessions. In Part I and Part II of our series, we looked at how a number of states amended or enacted data breach notification-related legislation (Arkansas, Delaware, Maryland, New Mexico, and Tennessee). Digital Insights brings you Part III in our series, State of the (State) Data Breach Laws, examining the major amendments passed in Utah, Virginia, and Washington, and how the bills in these states reshaped the data collection, data breach notification, and breach enforcement landscape.
Utah: On March 23, 2017, Utah Governor Gary Herbert signed S.B. 99, expanding the ability of the attorney general to enforce the state's data breach notification statute. Though Utah's breach notification law previously empowered the attorney general to enforce and seek penalties for violations of the statute, effective May 9, 2017, the amended statute permits the attorney general to enter into a confidentiality agreement with an individual to obtain information if there is reasonable cause to believe he or she has information relevant to enforcing its breach notification law. Likewise, a court may issue a similar confidentiality order in a civil suit brought under the statute.
Under S.B. 99, the attorney general, subject to some restrictions, may use any testimony, documents, or materials obtained by a confidentiality agreement or order in an enforcement action taken pursuant to the statute. The revised statute also compels the attorney general to keep all procedures, testimony, or documents or materials produced via a confidentiality notice or order confidential unless the individual at issue waives confidentiality, or its use or dissemination is otherwise permitted by S.B. 99. For instance, the attorney general may disclose materials obtained via a confidentiality agreement or order with a grand jury, or with a federal or state law enforcement officer, if the individual whom the information is obtained from is notified at least 20 days before disclosure and the law enforcement officer certifies that he or she will keep the material confidential and use it only for law enforcement purposes.
Finally, S.B. 99 permits the attorney general to seek attorneys' fees and costs associated with enforcing the statute.
While this amendment does not change an entity's own breach notification obligations under the Utah statute, the revisions seem to envision more robust enforcement of Utah's breach notification law by the state's top law enforcement official. Thus, entities with customers in the Beehive State have another reason to ensure compliance with Utah's breach notification statute.
Virginia: In the 2017 legislative session, the Virginia General Assembly passed H.B. 2113, imposing special regulatory notification requirements on employers and payroll service providers when tax information is affected. As of July 1, 2017, an employer or payroll service provider must notify the Virginia attorney general without unreasonable delay after discovering a breach of computerized data containing a resident's taxpayer identification number (TIN), combined with income tax withheld. An affected employer or payroll service provider must include the name and TIN of the affected residents as well as the employer's name and federal employer identification number (EIN) in its notification to the attorney general. For an employer, the statute applies to information concerning employees only. However, notification to the attorney general is not required when the employer or payroll service provider reasonably believes that the breach has not and will not cause identity theft or other fraud.
Washington: The Evergreen State's breach notification statutes ­– R.C.W. § 19.255.010 for businesses and R.C.W. § 42.56.590 for state agencies – define "personal information" the way that most states do: as an individual's name combined with his or her Social Security number, driver's license or state identification card number, or account, credit, or debit card number and the means to access that account. While the Washington Legislature did not pass legislation in 2017 amending this definition or refining a business' or agency's notification obligations, it did pass Substitute H.B. 1717, a bill that imposes restrictions on state agencies' ability to collect and otherwise use an individual's "biometric identifiers."
Substitute H.B. 1717 defines "biometric identifiers" as "any information … based on an individual's retina or iris scan, fingerprint, voiceprint, or scan of the hand or face geometry," subject to certain exceptions. Under the bill, which went into effect on July 23, 2017, an agency may not "collect, capture, purchase, or otherwise obtain a biometric identifier" without first notifying and obtaining an individual's consent. Such notice must clearly specify the purpose and use of the individual's biometric identifier, and the consent must be specific to the notice's terms and maintained by the agency for as long as it retains the individual's biometric identifier. Further, Substitute H.B. 1717 prohibits an agency from selling an individual's biometric identifier, and limits its use to the terms of the notice and consent.
Substitute H.B. 1717 imposes further duties on an agency: for instance, an agency must establish security policies to protect the integrity and confidentiality of biometric identifiers it obtains, address biometric identifiers in its privacy policy, adhere to records retention requirements and minimize the amount of biometric identifiers to that necessary to fulfill the notice and consent obtained from the individual, among other requirements.
While Substitute H.B. 1717's focus is on the practices of state agencies and their collection and use of residents' biometric information, the bill's significance to individuals, businesses, and other non-state entities lies more in what the Washington Legislature acknowledged in the bill's purpose:
The legislature finds that the collection and use of personal information has been a practice of virtually all state agencies and programs. Advances in technology have given rise to new forms of data, such as email and internet protocol (IP) addresses, which can be easily collected and stored along with traditional types of data such as names and dates of birth. One new form of personally identifiable information is biometric identifiers. The unique nature of this new type of personal data calls for additional guidance regarding its use by state agencies.
The Legislature recognized that new technology and new data may create new privacy implications that are not captured or covered by current statutes, including many state data breach notification statutes. Some states like Nebraska and Oregon already define "personal information" under their state breach notification statutes to include some versions of biometric data. However, this may be one area where more states – including Washington– seek to expand the meaning of "personal information" under their own breach notification statutes in the years to come.