Phone: 971.712.2802
Cell: 503.319.3142
Fax: 971.712.2801
Eric Neiman is the managing partner in the Portland office of Lewis Brisbois and a member of the Healthcare and Complex Business & Commercial Litigation Practices. He is chair of Lewis Brisbois' Healthcare Regulatory Practice and Behavioral Health Practice. He also is a member of the firm's Crisis Management Practice and regularly is called on to assist healthcare and other business clients in managing responses to critical events.
Mr. Neiman has been lead counsel in more than 100 jury trials and has been on the trial team in over 125 cases tried to verdict. His trial experience includes health care issues, business disputes, professional liability, employment, product liability, and technology issues. Mr. Neiman also has extensive experience in commercial arbitrations, regulatory and licensing matters, and investigations. Most recently, his practice has focused on healthcare litigation and health law including behavioral health, medical staff, provider issues, managed care, UCR, compliance and risk management.
Mr. Neiman was lead counsel for two health systems in the 2014 case of In the Matter of Detention of DW, both in the trial court and on appeal. In a landmark decision, the Washington Supreme Court ruled that civilly committed patients have a right to meaningful psychiatric treatment as a condition of their detention.
Mr. Neiman is interested in the science, policy and law of vaccines. He is a member of the bar of the United States Court of Federal Claims, and represents individuals injured by vaccines in the federal Vaccine Injury Compensation Program.
Mr. Neiman has served actively as a pro-tem circuit court judge since 1991.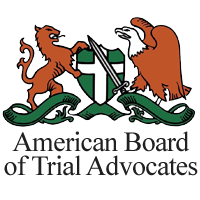 Publications
Interviewed for "The Least Bad Choice," 2018 Oregon Super Lawyers, August 2018
Author, "Up at Night: Liability for Mental Health Professionals for Failure to Warn," The Advocate (Idaho State Bar official publication), January 2018
Author, Email Alert, "Connecticut and Nevada Join States Banning Conversion Therapy," American Health Lawyers Association, May 19, 2017
Author, Email Alert, "Report Examines Conditions for Mentally Ill Inmates in County Jail System," American Health Lawyers Association, March 7, 2017
Author, Email Alert, "Washington Supreme Court Expands Liability of Mental Health Professionals," American Health Lawyers Association, January 3, 2017
Author, Member Briefing: Patient Safety—Identifying and Addressing Legal Issues Involved When Treating Pediatric Patients with Behavioral Health Needs, American Health Lawyers Association, July 8, 2016
Author, "From Paper to Decision: Applying the Fair Hearing Plan to Reality," MedStaff News (American Health Lawyers Association), May 2016
Co-author, 2015 Oregon Legislation Highlights (chapter on health law), Oregon State Bar, October 2015
Author, "More Liability for Mental Health Professionals?" USLAW Magazine, Spring/Summer 2015
Co-Author, "Psychiatric Patients in the Acute Care Setting: Legal Issues," February 2015
Author, chapter on "Invasion of Privacy," Oregon State Bar Torts Deskbook, 2012
Editorial Board, Oregon Health Law Manual, 2009-2011
Co-Author, "Punitive Damages Against Healthcare Providers in the Healthcare Reform Era," AAOS Now, American Academy of Orthopaedic Surgeons, February 2010
Professional Presentations
Presenter, "Workplace Violence in Behavioral Health and Acute Care Settings," Oregon State Bar Health Law Section CLE, September 9, 2022
Presenter, "Silent Epidemic: Workplace Violence in Behavioral Health and Acute Care Settings," American Health Law Association Annual Meeting, Chicago, IL, June 28-29, 2022.
Faculty, "What Every Health Lawyer MUST Know About Working with Protection & Advocacy Organizations," American Health Law Association webinar, May 21, 2020.
Moderator, "The State of State Mental Health Laws," SAMHSA/AHLA Convener Session, Washington, DC, April 24, 2019.
Presenter, "Doctors and Dependency: Physician Liability for Overprescribing Opioids," American Health Lawyers Association educational call, May 18, 2018.
Panelist, "Opioid Professional Liability and Coverage," Crittenden Medical Insurance Conference, San Diego, CA, April 9, 2018.
Moderator, "Providing Quality Care to Lesbian, Gay, Bisexual and Transgender Patients," Oregon State Bar Health Law Section CLE, April 6, 2018.
Presenter, "Still Unglued: Behavioral Health Update 2017," Washington State Society of Healthcare Attorneys Fall Health Law Conference, Vancouver, B.C., November 3, 2017.
Presenter, "Behavioral Health Update 2017: Idaho and Beyond," Idaho State Bar Health Law Section, Boise, ID, August 3, 2017.
Moderator, "What Immigration Means to Healthcare Delivery in Oregon," Oregon State Bar Health Law Section CLE, June 16, 2017.
Presenter, "Impaired Physician Tug of War: Patient Safety and Legal Risk Under the ADA," American Health Lawyers Association webinar, March 28, 2017.
Moderator, "Parity in One Hour," Oregon State Bar Health Law Section CLE, February 24, 2017.
Presenter, "Crisis and Commitment: Oregon Behavioral Health Update 2016," Oregon State Bar Health Law Section Annual CLE, October 7, 2016.
Presenter, "Advanced Behavioral Health for the Oregon Risk Manager," Oregon Society for Healthcare Risk Management, September 9, 2016
Moderator, "Grey Zone: Decision Making Challenges in the Aging Population," Oregon State Bar Health Law Section CLE, August 19, 2016.
Presenter, "Holding Patterns: Behavioral Health in Oregon 2016," Oregon Association of Hospitals and Health Systems, June 8, 2016.
Moderator, "All About Networks," Oregon State Bar Health Law Section CLE, April 8, 2016.
Presenter, "Behavioral Health 2016", Weatherby Healthcare, Durham, NC, March 24, 2016.
Presenter, "ER 2016: Psychiatric Boarding and Other Things that Happen in Hospital Emergency Rooms," February 18, 2016.
Presenter, "Behavioral Health for the Risk Manager," Washington Healthcare Risk Management Society Winter Education Event, Seattle, Washington, February 4, 2016
Presenter, "2015 Behavioral Health Update: Innovation or Inertia?," Washington State Society of Healthcare Attorneys Fall Health Law Conference, Vancouver, B.C., November 7, 2015.
Presenter, "Spillover: Legal, Regulatory, and Risk Consequences of Psychiatric Boarding," American Society for Healthcare Risk Management Annual Conference, Indianapolis, IN, October 19, 2015.
Presenter, "Psychiatric Boarding and Other Hot Topics in Behavioral Health," Physicians Insurance Annual Hospital Summit, Seattle, WA, September 25, 2015.
Co-presenter, "Legal Questions, Challenges Ahead for Health Care,"Oregon State of Reform Health Policy Conference, September 15, 2015.
Moderator, "Federal and State Health Care Enforcement in Oregon," Oregon State Bar Health Law Section CLE, August 14, 2015.
Presenter, "Behavioral Health in Oregon: Hot Topics 2015," Oregon State Bar Health Law Section, April 8, 2015.
Co-Presenter, "Psychiatric Patients in the Hospital Emergency Department," AHLA Physicians and Hospitals Law Institute, Las Vegas, NV, February 3, 2015.
Co-Presenter, "Update on Legal Challenges to Reform," Washington State of Reform Health Policy Conference, Seattle, WA, January 8, 2015.
Co-Presenter, "Psychiatric Boarding: What to Expect When the Supreme Court's Decision is Effective," Washington State Hospital Association Webcast, December 16 and 17, 2014.
Presenter, "Psychiatric Boarding and Other Hot Topics in Behavioral Health," Washington State Society of Healthcare Attorneys Fall Health Law Conference, Vancouver, B.C., November 7, 2014.
Presenter, "Mental Health Update," Washington State Society of Healthcare Attorneys Fall Health Law Conference, Vancouver, B.C., November 1, 2013.
Presenter, "Training for Arbitrators," Multnomah County Bar Association CLE Seminar, October 26, 2005, November 9, 2005, May 24, 2006, June 12, 2006, October 30, 2007 and March 5, 2010.
Presenter, "Ambush at the End of the Oregon Trail: Expert Practice in Oregon State Court," 22nd Annual Medical Device Seminar, Bend, OR, June 15, 2009.
Guest lecturer, "Summary Judgment Motions in State and Federal Court,"Willamette University College of Law, 2009-2017 (annually)
Admissions
State Bar Admissions
United States District Courts

United States District Court for the District of Idaho
United States District Court for the District of Oregon
United States District Court for the Eastern District of Washington
United States District Court for the Western District of Washington

United States Courts of Appeals

United States Court of Appeals for the Ninth Circuit

Other Admissions

United States Court of Federal Claims
Admissions
Idaho
Oregon
Washington
Ninth Circuit Court of Appeals
United States District Court for the District of Idaho
United States District Court for the District of Oregon
United States District Court for the Eastern District of Washington
United States District Court for the Western District of Washington
United States Court of Federal Claims
Associations
American Bar Association

Health Law Section
Section of Litigation

American Board of Trial Advocates
American Health Law Association

Behavioral Health Practice Group subcommittee vice-chair (2015-2022)
Vice-chair – Member Engagement (2017-2020)
Chair, Risk Management Subcommittee (2015-2017, 2020-2022)

Oregon State Bar Health Law Section

Executive Committee (2015-2021)

Vaccine Injured Petitioners Bar Association
Washington State Society of Healthcare Attorneys
Awards & Honors
Best Lawyers in America 'Lawyer of the Year' in Litigation - Healthcare (2023)
The Best Lawyers in America, 2007-2022
Super Lawyers, 2007-2022
Education
University of Oregon School of Law
Juris Doctor, Order of the Coif, 1982
University of California, Santa Barbara
Bachelor of Arts, highest honors, 1978

Back to Attorneys