Phone: 213.580.7962
Fax: 213.250.7900
Primary Areas of Practice
Donald Forgey is a partner in the Los Angeles office of Lewis Brisbois and a member of the General Liability Practice. Mr. Forgey has more than 30 years of experience specializing in civil litigation and insurance defense. His practice includes:
Transportation: Defense of trucking and tow truck companies in serious vehicle accident cases. Member of firm's "24-Hour Response Team" for prompt investigation of trucking accidents.
Premises Liability: Representation of major entertainment companies, including Viacom Inc. and Paramount Pictures Corporation in personal injury litigation arising out of accidents on movie and television sets.
Police Litigation: Successful defense of one of the police officers involved in the civil litigation arising out of the "LAPD Rampart Scandal".
General Liability: Served as counsel for Vons Markets in the personal injury and wrongful death claims filed in California arising out of the Jack-in-the-Box E. Coli food poisoning outbreak in the Western United States.
Medical Malpractice: Represents physicians, nurses, hospitals, nursing registries, and other health care providers in medical malpractice litigation. He has handled malpractice cases in numerous areas including anesthesiology, cardiology, emergency medicine, family practice, surgery, internal medicine, oncology, neurology, nephrology, obstetrics and gynecology, orthopedics, plastic surgery, pediatrics, pulmonary medicine, pharmacology, radiology and urology.
Mr. Forgey is a member of the American Board of Trial Advocates (ABOTA), having tried 41 jury trials. He also arbitrated well in excess of 100 personal injury cases.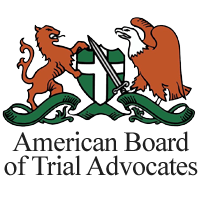 Associations
American Board of Trial Advocates (ABOTA)
Association of Southern California Defense Counsel
Los Angeles County Bar Association
American Bar Association
President, Southwestern Law School Alumni Association, 2009 - 2011
Adjunct Associate Professor - Southwestern Law School, 2013 - present
President, Cowboy Lawyers Association, 2016 - present
Awards & Honors
Premises Liability Law in California
Trial Tactics in Civil Litigation
"Ready for Trial: a Step-by-Step Guide to Preparing a Personal Injury Case for Trial," VERDICT MAGAZINE, (Publication of the Association of Southern Defense Counsel), 4th Quarter 1991
"The New Slip and Fall Hazard for Defense Attorneys: Ortega v. Kmart", VERDICT MAGAZINE, 1st Quarter 2002
"A "Gross" Decision for the Defense? City of Santa Barbara v. Superior Court", VERDICT MAGAZINE, 4th Quarter 2008
Alumni Mentor of the Year – Southwestern Law School - 2016
Education
Southwestern University School of Law
Juris Doctor, 1977
California State University, Northridge
Bachelor of Arts, cum laude, 1972

Back to Attorneys